The Long View
The Long View 2004-06-07: Ronald Reagan; Ecumenical Americanism; UN Transnationalism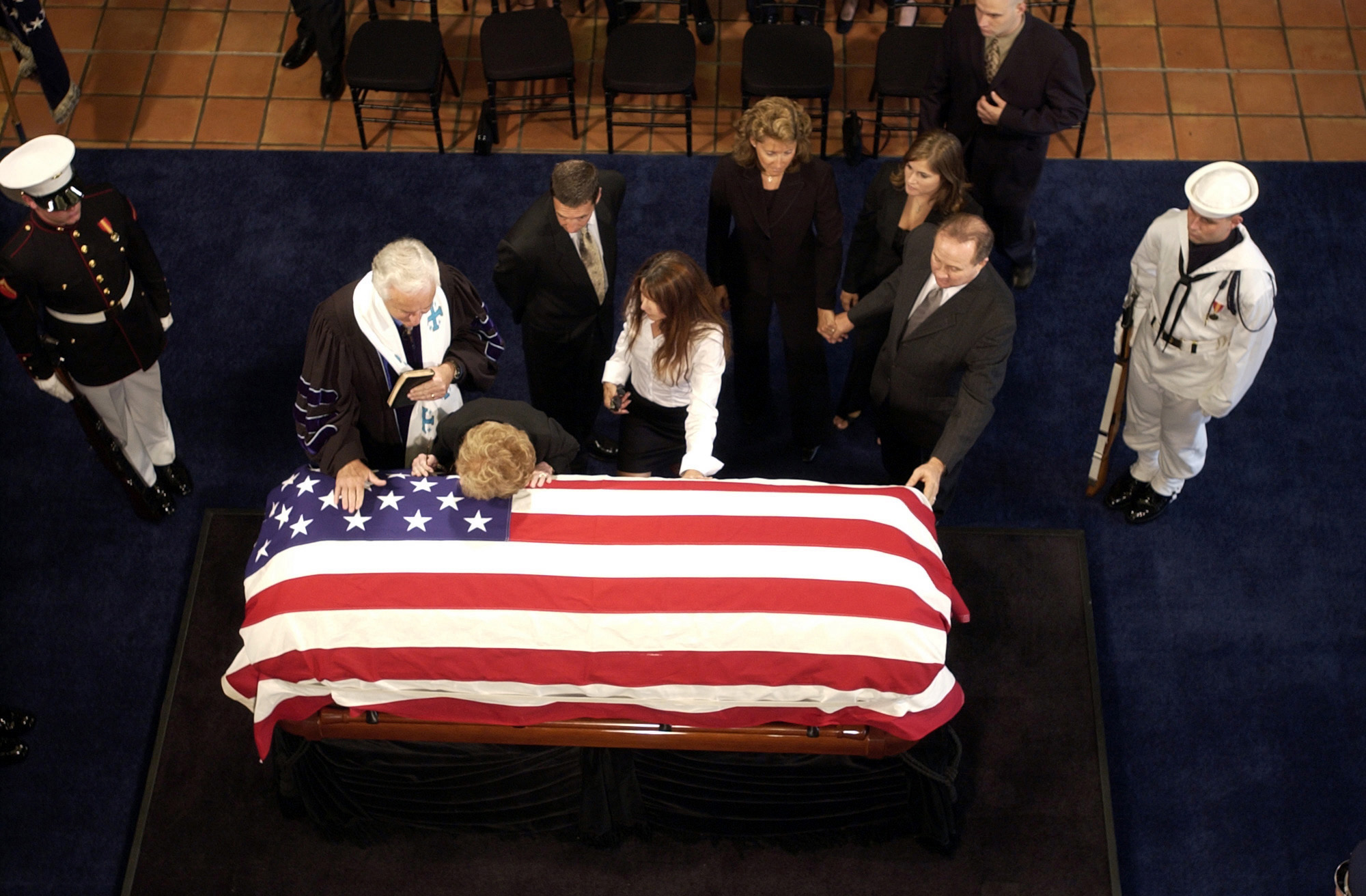 As I've said before, John wasn't a fan of Ronald Reagan, but John did think Reagan had some success as a chief executive. In fact, John saw him as embodying a bit of the archetype of the king [or the Emperor], the still center around which the world turns,. This is a bit odd for a late-twentieth century American president, because what we usually call the Imperial Presidency is a whirlwind of energy and rapid-fire decision-making, immortalized in Teddy Roosevelt.
The mental space filled by traditional kingship is an old, old idea, one that runs through the West and the East alike. In politics, few take this idea seriously, but artistically it is just as potent as it ever has been. Take this passage from the Return of the King, which I think of everytime the concept of the king comes up:
Standing there for a moment filled with dread Frodo became aware that a light was shining; he saw it glowing on Sam's face beside him. Turning towards it, he saw, beyond an arch of boughs, the road to Osgiliath running almost as straight as a stretched ribbon down, down into the West. There, far away, beyond sad Gondor now overwhelmed in shade, the Sun was sinking, finding at last the hem of the great slow-rolling pall of cloud, and falling in an ominous fire towards the yet unsullied Sea. The brief glow fell upon a huge sitting figure, still and solemn as the great stone kings of Argonath. The years had gnawed it, and violent hands had maimed it. Its head was gone, and in its place was set in mockery a round rough-hewn stone, rudely painted by savage hands in the likeness of a grinning face with one large red eye in the midst of its forehead. Upon its knees and mighty chair, and all about the pedestal, were idle scrawls mixed with the foul symbols that the maggot-folk of Mordor used.
Suddenly, caught by the level beams, Frodo saw the old king's head: it was lying rolled away by the roadside. 'Look Sam!' he cried, startled into speech. 'Look! The king has got a crown again!'
The eyes were hollow and the carven beard was broken, but about the high stern forehead there was a coronal of silver and gold. A trailing plant with flowers like small white stars had bound itself across the brows as if in reverence for the fallen king, and in the crevices of his stony hair yellow stonecrop gleamed.
'They cannot conquer forever!' said Frodo. And then suddenly the brief glimpse was gone. The Sun dipped and vanished, and as if at the shuttering of a lamp, black night fell.
John mentions David Warren in passing in this blog entry. Warren wrote a column for the Ottowa Citizen until 2012, mostly about the war on terror, but sometimes about his travels around the world, or Catholicism, or whatever struck his fancy. I was a regular reader for years, and then I just dropped off after a while. Like John J. Reilly, Warren was a defender of the Iraq War in the early 2000s, but when I have dipped into his new website on occasion, I get the impression that he is penitent for this, and for anything else he might have done.
The quoted passage from 2004 strikes me as especially relevant today. In part, you can cast the current political turmoil across the United States and Europe as a contest of localism versus globalism. I certainly have. Yet, in a curious way, the localists [or nationalists, as they are usually called by their opponents], have quite a bit in common with each other. John certainly isn't the first to notice that ordinary patriotism and Western identity are starting to converge
---
Ronald Reagan; Ecumenical Americanism; UN Transnationalism
Back in the days of the Soviet Union, Radio Moscow loved to air commemorative stories. They were essentially documentaries that consisted half of commentary and half of historical revisionism. For whatever reason, National Public Radio in the US has the same predilections. It would be unfair to say that they were delighted with the death of Ronald Reagan last Saturday, but they did rise to the event with singular enthusiasm. They actually cancelled regular programming for a while, so they could offer "continuous coverage." How do you offer continuous coverage of a wake? Hourly bulletins to say the deceased is still dead?
For myself, I cannot say that I was ever a great fan of Ronald Reagan. I actually voted for Jimmy Carter in 1980. I did vote for Reagan in 1984, however; there's no point in arguing with success. Much nonsense has been written about Reagan's alleged divorce from the ordinary operations of government. In fact, he was an effective manager of a familiar type. Still, his chief abilities as a leader where charismatic, mimetic, symbolic. The traditional king, it has been said, is not an executive, but he "subdues opposition through the rumor of his imperturbability." There's the Reagan presidency for you.
* * *
David Warren, that invaluably gloomy Canadian, had this to say on the occasion of President Bush's trip to Europe for the D-Day commemorations:
The extraordinary thing about the West that was exposed, in the lightning of 9/11/01, is that it is one country, in an advanced state of decadence, turned against itself. And for one of the parties to this spiritual and intellectual civil war (not a battle of ideas, but a battle of "ideas against anti-ideas"), it is more important to defeat their internal enemy than to confront any threat from abroad. The loyalties are no longer to nations. Instead, an Italian who votes for Berlusconi has more in common with an American who votes for Bush, than either of them has with his own countrymen who vote the other way.
The idea that the Left is becoming transnational is now commonplace; Michael Moore wins awards in France for propaganda films that are praised from Berlin to Berkeley. However, as I have been arguing for a few years, there has been a corresponding internationalization elsewhere on the political spectrum. This sentiment, nowhere a movement, reconceives patriotism as an aspect of a broader sense of Western identity. The speech that Aragorn gives to the Host of the West in The Return of the King film might stand as an expression of it for the time being, until life starts to imitate art.
* * *
Speaking of art, a professor of political science at the Naval War College, one Thomas P. M. Barnett, is credited with providing the Pentagon with a new geopolitical map of the world. His model uses terms like "core" and "periphery," but this is not your father's World System's Theory. For Barnett, India and Russia and South Africa are as much in the core as Japan or Great Britain. A core state is any state that abides by international trade rules, which permanently demilitarize its relationship with other core states, or so Barnett hopes. That is far from saying that universal peace is about to break out: beyond "the functioning core" is the "nonintegrating gap." Michael Barone summarizes the strategic implications:
Barnett says we need two kinds of military forces. One he calls "leviathan"...a relatively small body of fierce warriors, heavily weighted to special-forces teams -- the kind of forces that achieved such speedy victories in Afghanistan and Iraq...But we need very much larger forces, set apart from the warriors, of what Barnett calls system administrators or sys admins. "The sys admin force will be civil affairs-oriented and network-centric," Barnett writes, "an always-on, always-nearby, always-approachable resource for allies and friends in need." They will be doing most of the things our military forces have been doing or have been trying to do in Iraq since May 1, 2003.
This is precisely what the Pentagon does not want to do. The Clinton Administration, through timidity, let the Pentagon get away with preparing to fight a high-tech version of World War II. The Bush Administration, in its first few months, let the Pentagon carry on the same way, but not through timidity: they had a theory about it.
* * *
One might reasonably suppose that the United Nations is the proper body to organize the "sys admin" forces that Barnett talks about. The problem is that UN peacekeeping is becoming a planetary laughingstock. Consider this recent report from Africa:
June 3
Yes, you read that right: the mandate of the UN's army (an overwhelming force in that context) dids not extend to battles. International forces of neutrals and NGOs really should be keeping the peace in places like the Balkans and the Congo. However, it is becoming clear that some constitutional feature of the UN prevents it from doing this effectively.
Copyright © 2004 by John J. Reilly