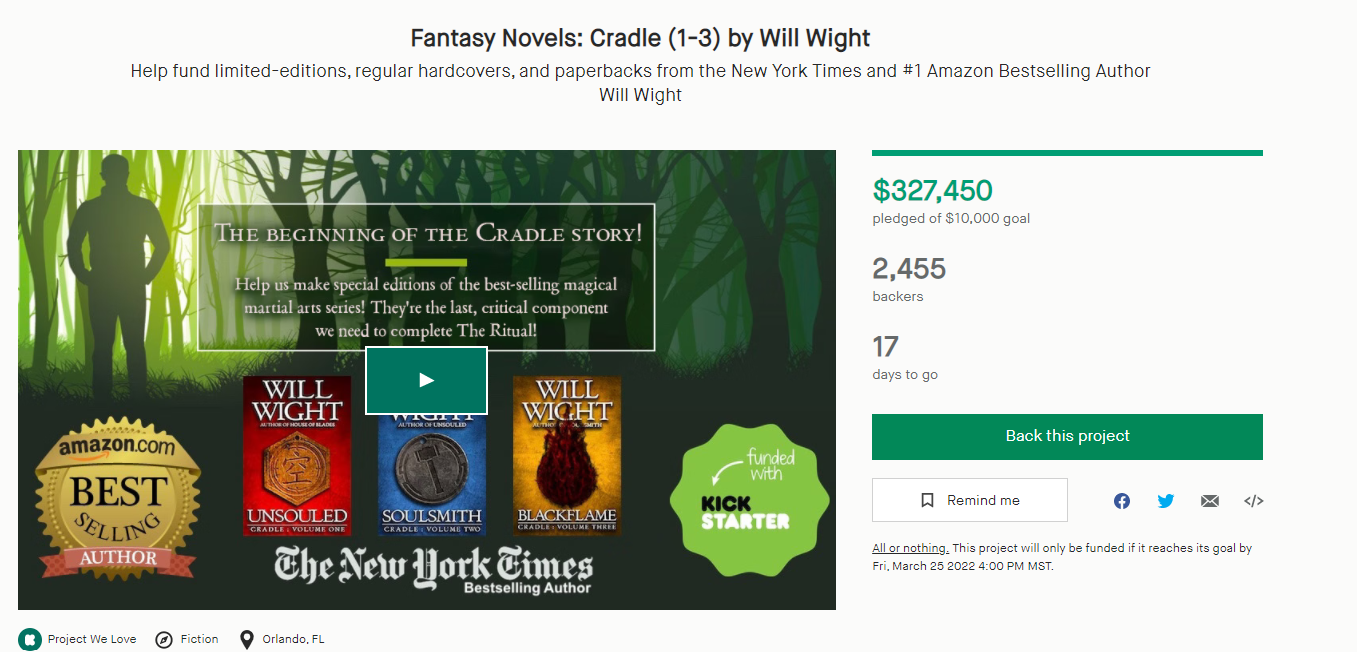 As threatened, Will Wight has indeed launched his own Kickstarter. While he hasn't quite hit Brandon Sanderson levels of success, this is a very respectable showing for books that have already been published.
In addition, you can get Unsouled, Soulsmith, and Blackflame, these same three books free in ebook form until March 12th. [Amazon links]. If you really want a sweet deal, if you have the ebook from Amazon, the first two audiobooks are only $1.99 each, which is a screaming good deal.
I've been a big advocate of the Cradle series, and I am very happy to see this going so well. Wight said he plans to do Kickstarters for fancy signed versions of all his Cradle books once he finishes up this one.
Books by Will Wight
Cradle Series:
Unsouled: Cradle Book 1 Review
Soulsmith: Cradle Book 2 Review
Blackflame: Cradle Book 3 Review
Skysworn: Cradle Book 4 Review
Ghostwater: Cradle Book 5 Review
Underlord: Cradle Book 6 Review
Uncrowned: Cradle Book 7 Review
Wintersteel: Cradle Book 8 Review
Bloodline: Cradle Book 9 Review
Reaper: Cradle Book 10 Review
Traveler's Gate series:
House of Blades: Traveler's Gate Book 1 Review
The Crimson Vault: Traveler's Gate Book 2 Review
City of Light: Traveler's Gate Book 3 Review
Traveler's Gate Chronicles Book Review
Elder Empire series: