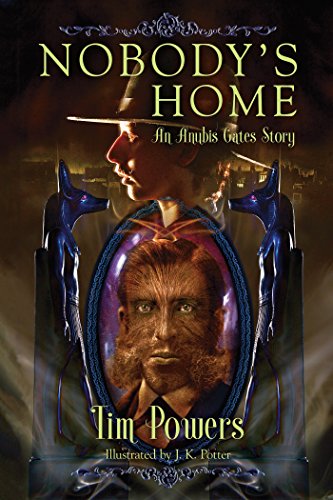 Nobody's Home: An Anubis Gates Story
by Tim Powers
80 pages
Published by Subterranean Press (2014)
ISBN 978-1-59606-670-0
Nobody's Home is a beautifully illustrated little chapbook that is set in the world of Tim Powers' 1983 novel The Anubis Gates. This is a Regency England ghost tale, taking place in the wild and woolly pre-Victorian London that could barely govern itself, wilder even than the London of Jack the Ripper. At a mere eighty pages, this is a tightly crafted story, one that moves along at a steady pace without too many distractions.
Since I am a big Tim Powers' fan, I am curious how this book would come across to someone who isn't familiar with The Anubis Gates, or even Powers' general secret history style of writing. In my own experience, this can go one of two ways. You are either fascinated or deeply confused by his work. I suspect that Nobody's Home would be much the same. I have conflicting evidence for this.
I think I would describe this book as something like fanservice, because Powers has returned to the setting of one of his greatest books more than thirty years later. Not only has he returned to a setting he has previously established, he has also incorporated the mechanics of ghosts and hauntings he narrated so convincingly in Expiration Date, the second book in the Fault Lines trilogy.
In addition, Subterranean Press puts out lots of fancy editions of Tim Powers' books, many of which, like this one, have a list price of $35 USD for an eighty page book. This is a beautiful volume, but that seems a little steep! The market would appear to be devoted fans like myself.
On the other hand, I find that many of the reviews of this book dwell upon how short it is, or that it doesn't dwell upon the mysteries of Powers' fictional world at sufficient length. Since most of these reviews seem to be written by fans of Powers' work, that makes me think that this is, in fact, a decent introduction that isn't too convoluted. I would hope that with more than thirty years of experience, Powers would be able to craft something intriguing and accessible to more casual readers, while still offering the Tim Powers' experience to his many fans.
With that in mind, I can say that I was rather satisfied by how Powers' blended the time-traveling world of The Anubis Gates with his later ghost stories into a harmonious whole. I found it rather fun, and I wasn't sad that this wasn't a novel, because the novel already existed. I suppose I'm just strange.
I would be willing to lend this short story to someone who had never read Powers, in the hope that it might be intriguing enough that they would look up his other works. I also enjoyed this book as an artifact, in how it was clearly crafted for a fan like myself. This was a fun book, and I hope that it can be enjoyed in the spirit that spurred its creation.
Other books by Tim Powers
Last Call
Expiration Date
Earthquake Weather