Catholic
The Long View 2006-10-11: Springtime for Doomsday; Mainstream Crusade; Tridentine Indult; Idomeneo; Secure Yourself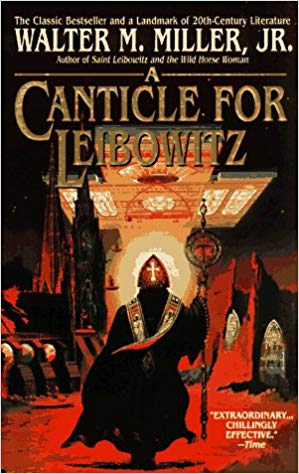 A Canticle for Leibowitz is one of the few Catholic apocalyptic novels. It remains one of my favorites, because of how seriously, and how imaginatively, Miller took Catholic doctrine.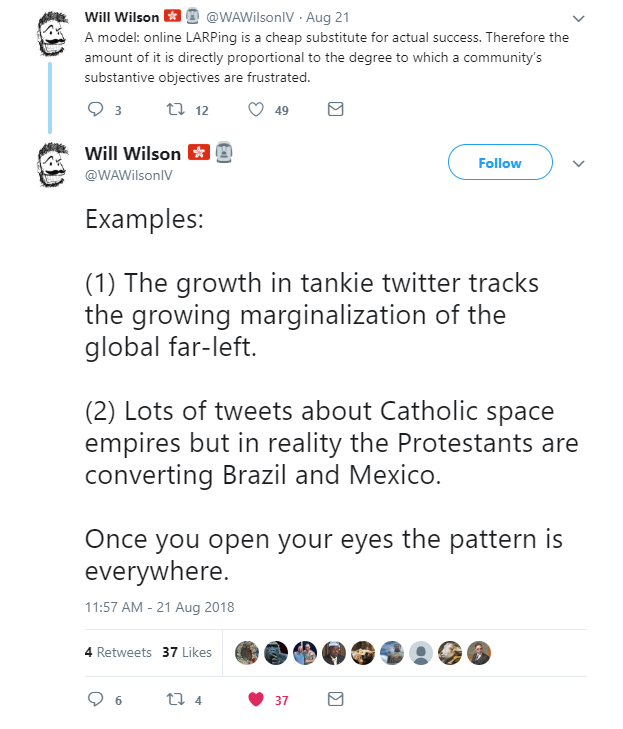 Will Wilson's brutal tweet about the online LARPing of Catholic space empires is on point, and the best response I could imagine is the Catholic imagination of Walter Miller.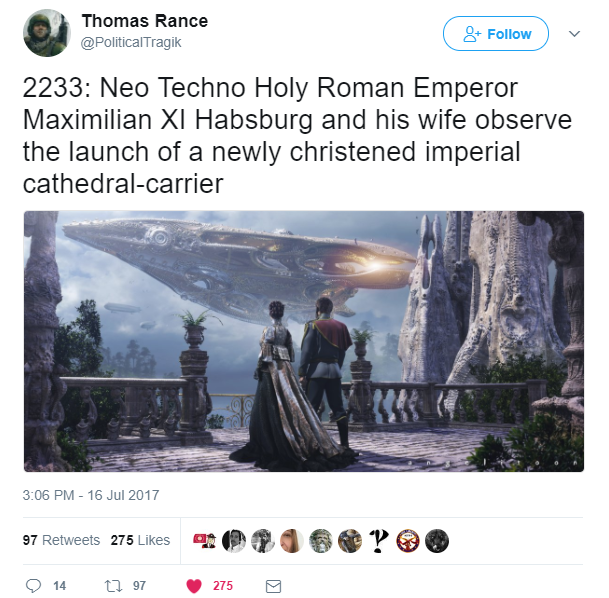 In this blog post, John also works at the essential dilemma that we face today regarding freedom of speech and the deplatforming tactics of groups such as Antifa. If all the West really stands for is allowing Nazis and other assorted ne'er-do-wells to have rallies, then it isn't worth defending. John discussed this in the context of the intentionally offensive cartoons of Muhammad in 2006, but the principle isn't really different now. John made an argument that allowing intentional transgressions was a necessary friction, but I think that time may have passed us by.
In 2002, John made an argument that healthcare was a public good, not a public right, and I still like this argument. He said that you couldn't call healthcare a public right in the same sense you could call the right to confront your accuser at trial, because healthcare depended upon an elaborate infrastructure of technology and training, while if you were going to have a trial, your accuser could simply be produced.
I think teasing out the subtleties of this argument would be a book, at least, but I think there is something here.
In a similar vein, the relatively homogeneous Western European societies that developed ideals of free speech had a remarkable ability to tolerate cranks and dissent, within certain bounds. Think of Toad in the Wind in the Willows. The relatively unhomogeneous Western societies we have now, don't. Much like healthcare, our capacity to tolerate blasphemy and hatred depends on our capacity to provision public life with a common meaning. When that is lacking, it doesn't matter what the constitution says; no one is getting what is promised.
---
Springtime for Doomsday; Mainstream Crusade; Tridentine Indult; Idomeneo; Secure Yourself
Alas for Millennial Studies, which made the mistake of trying to institutionalize itself in connection with the year 2000. Today, I think, few people would deny that the area is of more enduring significance. Consider, for instance, Thomas Hibbs' comments on the enduring significance of Walter Miller's 1959 novel about the interval between the Third and Last World Wars, A Canticle for Leibowitz:
End-times stories have become quite popular in recent years. In a recent New York Magazine piece, entitled "The End of the World as They Know It," Kurt Anderson observes that from "Christian millenarians and jihadists to Ivy League professors and baby-boomers, apocalypse is hot..."

Buffy and other apocalyptic stories stress the recovery of a lost knowledge of good and evil, but this knowledge is typically needed, not so much to inform a living culture, but merely to fend off destruction and to do so by violent means. In A Canticle for Leibowitz, by contrast, the accent is not on destruction or even holding back destruction through violence but on preservation. The goal is integration and unification, however difficult that objective might be.
I have been saying that for years; I may be saying that until doomsday.
* * *
What are we going to call the rollback of Islam? The Reconquesta? Anyway, we will soon need a term if even a journal as clueless as The New York Times notices that Across Europe, Worries on Islam Spread to Center
When Pope Benedict XVI made the speech last month that included a quotation calling aspects of Islam "evil and inhuman," it seemed to unleash such feelings. Muslims berated him for stigmatizing their culture, while non-Muslims applauded him for bravely speaking a hard truth....

In Austria this month, right-wing parties also polled well, on a campaign promise that had rarely been made openly: that Austria should start to deport its immigrants. Vlaams Belang, too, has suggested "repatriation" for immigrants who do not made greater efforts to integrate...The idea is unthinkable to mainstream leaders, but many Muslims still fear that the day — or at least a debate on the topic — may be a terror attack away...

Perhaps most wrenching has been the issue of free speech and expression, and the growing fear that any criticism of Islam could provoke violence.
On the subject of free speech and expression, we should note Stephen Schwartz's report that there was less to the Idomeneo controversy than met the eye:
Such a claim might have borne some weight, except that there was no evidence that any Muslims anywhere had ever heard about the opera or cared at all about it. Excitement among the Berlin officialdom was caused by a telephone tip from an individual who surmised the opera might cause problems. As this column is written, however, German Muslim leaders have called for the opera to be shown as planned.

Second, the appearance of the severed heads in the opera was a novelty created by producer Hans Neuenfels, to express his own hatred of religion. It does not appear in Mozart's original work, which is set on the island of Crete at a time when nobody in the Hellenic world knew anything about Buddha, and Jesus and Muhammad had not yet been born. Islamophobes (because people who irrationally fear and hate Islam do exist, unfortunately) soon blew the brouhaha far out of proportion, declaring that the Berlin Opera had surrendered to expressions of Muslim rage that, as noted, did not exist, and as much as declaring that the very survival of human liberty depended on the opera being presented in Neuenfels' version.

The latest news assures the opera public and global opinion that the Neuenfels production of Idomeneo will be mounted as planned, the head of Muhammad will be displayed, and the Western understanding of freedom will be, at least temporarily, saved.
That's an encouraging outcome, I suppose. It leaves us with the satisfaction of seeing cultural provocateurs fleeing from their own shadows. More important, maybe, is that it saves us the embarrassment of needing to defend this godawful production. As I have noted, the avant garde has become subversive of liberty:
The fact is that if democracy meant nothing else than that blasphemy could be freely circulated, or that pornography was always available at the touch of a button, or that Michael Moore got to make as many tendentious films as he wanted, then democracy would not be worth having; certainly it would not be worth dying for. The fact is that we put up with these annoyances because they are necessary frictions. We have freedom of the press and contested elections because, on the whole and over the long run, they produce good government and the improvement of the human estate. They produce virtue. The lethal danger that postmodernism and libertarianism pose for the West is their embrace of the transgressive. Their mixture makes Western society repulsive abroad and, in the long run, causes the freedoms on which they depend to become a matter of indifference at home.
These people need to read A Canticle for Leibowitz.
* * *
Speaking of forward-looking preservation, we see that Benedict XVI is about to do something else that needed doing:
Pope Benedict XVI is understood to have signed a universal indult — or permission — for priests to celebrate again the Mass used throughout the Church for nearly 1,500 years. The indult could be published in the next few weeks, sources told The Times...The new indult would permit any priest to introduce the Tridentine Mass to his church, anywhere in the world, unless his bishop has explicitly forbidden it in writing.
I know people to whom this move has been almost an eschatological hope. We should remember, though, that priests educated after the 1960s do not know how to say the Tridentine Mass. As for the older ones who do know how, most of them would not do so even at gunpoint. Still, this is a positive development. The old liturgy needs to stay in circulation so it can be mined for ways to perfect the vernacular liturgy, particularly with regard to music.
* * *
Finally, take note of the website in which that Stephen Schwartz item above appears: Family Security Matters. In part, it describes itself thus:
We want to be your best resource for accurate and practical knowledge that will make your families and communities safer, stronger, and more secure. This problem is too important to wait for someone else to solve it. So explore our site, sign up for membership and FSM's Daily Security Updates, and come back often to learn everything you need to become active participants in America's struggle for security and peace.
This smacks of one of Mark Steyn's suggestions in America Alone, that it would be better if ordinary people took responsibility for their own physical security rather than waiting for the government to make them safe.
As Mr. Burns said when Smithers assured him that the Jade Monkey had been found in the glove compartment of Mr. Burns's limousine: "Excellent. It's all falling into place."
Copyright © 2006 by John J. Reilly