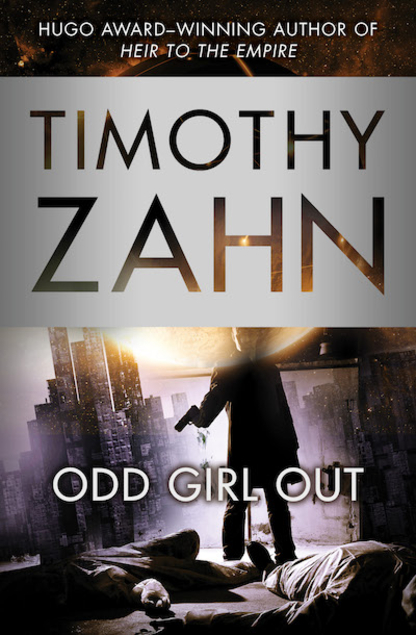 Odd Girl Out: Quadrail Book 3
by Timothy Zahn
366 pages
Published by Open Road Media Sci-Fi & Fantasy; Reprint edition (July 28, 2015)
ASIN B00Z8POPPS
I picked this book up in the library earlier this year, read the first chapter, and realized that a lot of things were being discussed instead of revealed. Then I looked at the inside cover and realized I had selected book three of a series. Weirdly, lots of reviews of Odd Girl Out have the same story as mine. I don't know what you did Tim, but this one stands out on a shelf for some reason.
As is now the pattern, Frank starts out the book being associated with a murder. Unfortunately for him, this time the cops arrest him and throw him in jail to await arraignment. Fortunately, Frank has friends in high places who can bail him out.
What his friends can't do is explain why the woman who broke into his apartment, and then asked for help before he sent her packing, now lies dead next to a man with a suspiciously similar head wound. This is a classic noir setup, and Frank probably should have seen it coming, given his love of classic cinema. Even Homer nods.
While this escalation is par for the course, what is not is the way we get hints that friend may be foe, and foe friend. The Modhri, Frank's nemesis in the great game for control of the Quadrail and the galaxy, asks him for help. While understandably suspicious, Frank, the keen student of behavior, is intrigued enough to look into it. And the Modhri isn't the only one acting strange. Bayta, his partner, is still cool towards him after Frank kissed a cute girl in the last book, no matter that mind viruses were involved. His employers are keeping a closer than usual eye on him. And of course, he is out on bail for a double homicide.
Which is all just another day in the office for the galaxy's wiliest railroad detective. Fortunately, Frank is far too stubborn to let trivialities like the coldness and distrust of his only friends stand in his way. If things like that mattered to him, he wouldn't have blown the whistle on the United Nations' hopeless scheme to colonize the worthless planet of Yandro. And he won't let it stop him from finding the little girl the dead woman asked him to protect.
Night Train to Rigel: Quadrail book 1 review
The Third Lynx: Quadrail book 2 review
Other books by Timothy Zahn
Soulminder
Heir to the Empire
Dark Force Rising
The Last Command