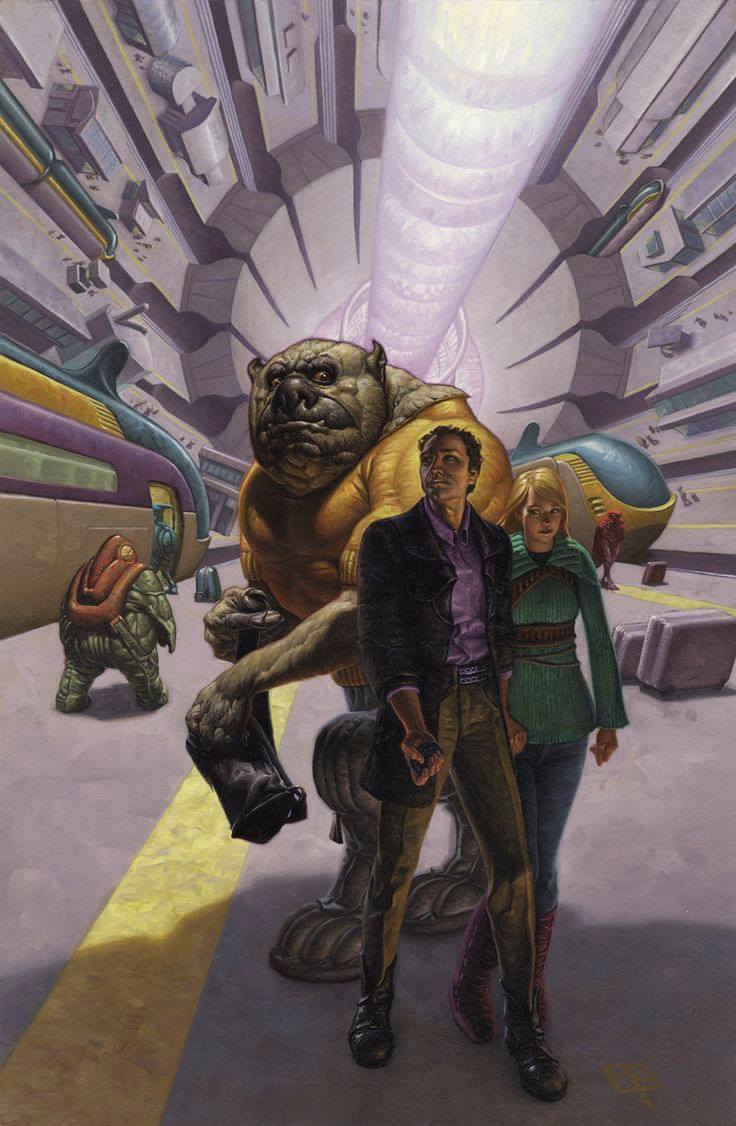 The Third Lynx: Quadrail Book 2
by Timothy Zahn
352 pages
Published by Tor Books (October 30th, 2007)
ISBN 9780765317322
This cover is my favorite of the whole series. The first volume I bought was a reprint in ebook form; it has a stylized cover with a man carrying an MP5K, or something much like it. It could easily be the cover for a Tom Clancy-style espionage action book. It isn't bad, but I don't love it as much as I do Mark Zug's cover art for The Third Lynx.
Frank Compton looks wily and self-assured here. I feel like Zug nailed his personality. Bayta, his assistant and liaison with the Spiders who run the interstellar Quadrail service, looks pensive, but nonetheless determined. Rarely do I see a book's characters captured so well in a single image. The Quadrail station itself even gets a nod, at once otherworldly and familiar.
Mark Zug has a website you should check out, he does a lot of art in this style.
Back to Zahn's work, The Third Lynx follows closely on the heels of Night Train to Rigel. Even down to how Frank immediately finds himself in the company of recently murdered man who wanted to send him on a quest. The way in which Zahn departs from the pattern is that he subtly ratchets up the stakes, and the tension.
The first time Frank found a dead man, he rifled through his pockets, found a ticket with his own face on it, and scooted off without getting identified. This time, a former colleague with an axe to grind spots Frank and raises the kind of fuss that isn't helpful to a railroad detective attempting to be low-key.
Frank of course uses his Poirot-like investigative skills to unravel the mystery of the dead man and his connection to the eponymous statue, which is not really a Maltese Falcon reference since it turns out to not be a MacGuffin. What I like most about Frank Compton is that his real superpower in the Quadrail dominated galaxy is that he is a barracks lawyer, always using the many bureaucratic regulations of a post-modern galaxy as his true weapons. Every one of the cultures Zahn created to populate his fictional universe has both its own typical personality, and a need to implement mechanisms of social and legal regulation. Frank is a master of arbitrage between the legal systems of different cultures, and he'll use any leverage he can get.
Anonymity was a useful tool for Frank, but that is the first thing he loses in The Third Lynx. This makes the games he plays more interesting, because he needs to attempt misdirection in plain sight. And his opponent is doing the same thing, at the same time, which you sometimes can only see in retrospect. It isn't just Frank that figures it all out at the end.
Night Train to Rigel: Quadrail book 1 review
Other books by Timothy Zahn
Soulminder
Heir to the Empire
Dark Force Rising
The Last Command