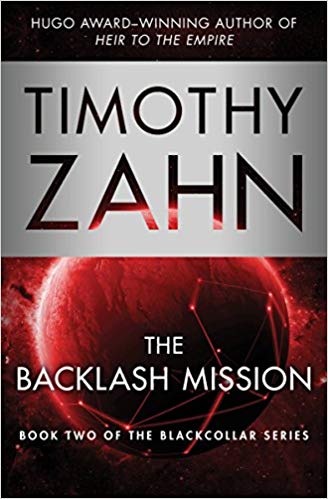 The Backlash Mission: The Blackcollar series book 2
by Timothy Zahn
Open Road Media Sci-Fi & Fantasy (October 16, 2012)
352 pages
ASIN B0094ANS2E
The second book in the Blackcollar series picks up several years after the conclusion to the previous volume. The Blackcollars of Plinry have wrestled concessions from the conquerors of Earth that allow them to continue to train guerrilla fighters and operate a small space fleet.
With the possibility of re-establishing contact between the human worlds, now there is an actual glimmer of hope that the disparate resistance movements might organize into something greater, rather than simply trying to survive as long as possible.
Our young POV character, Allen Caine, has graduated from his guerrilla training on Plinry, but he lacks the supernatural reflexes and strength of the true Blackcollars, because no one on Plinry has access to Backlash, the drug that transforms their bodies into living weapons. He convinces his superiors to let him lead a mission to Earth in the hopes of finding the drug or its formula.
Of course, once on Earth, we get to see the Blackcollars in action again. The tactical doctrine of the Blackcollars, or at the least the group from Plinry seems to be equal parts Sun Tzu and GRU. Blackcollars never face an enemy where he is strong, and focus on controlling the flow of battle by understanding the motives and patterns of behavior of their opponents.
"If you know the enemy and know yourself, you need not fear the result of a hundred battles. If you know yourself but not the enemy, for every victory gained you will also suffer a defeat. If you know neither the enemy nor yourself, you will succumb in every battle."

― Sun Tzu, The Art of War
In addition to psychological insight, the Blackcollars use a combination of compartmentalization, misinformation, provocation, and wheels-within-wheels style planning to pull victories from seemingly impossible odds.
"All warfare is based on deception. Hence, when we are able to attack, we must seem unable; when using our forces, we must appear inactive; when we are near, we must make the enemy believe we are far away; when far away, we must make him believe we are near."

― Sun tzu, The Art of War
Of all of this, is is really only the last item that I find somewhat implausible. Other fictional commanders, such as Colonel Falkenberg, make use of deception as well, but Falkenberg would scoff at the complicated plans Lathe relies upon. It seems like there are too many ways for things to go wrong, but Lathe's plans always seem to work out perfectly. I would have liked to see some improvisation on the fly, but I admit it is kind of fun to see how it all comes together in the end.
That aside, I rather enjoyed this sequel. We got further development of the world and its history, and I feel like Zahn tightened up his intrigue a bit, although sometimes I was a bit baffled by the arguments between the two human collaborators assigned to hunt down the Blackcollars. They were of course quite successfully bamboozled by Lathe's wilderness of mirrors, but even in those terms sometimes the discussion didn't seem to make sense.
I consider that a pretty minor flaw in an otherwise very enjoyable work.
The Blackcollar: Blackcollar series book 1 review
Other books by Timothy Zahn
Night Train to Rigel: Quadrail book 1 review
The Third Lynx: Quadrail book 2 review
Odd Girl Out: Quadrail book 3 review
The Domino Pattern: Quadrail book 4 review
Judgement at Proteus: Quadrail book 5 review
Heir to the Empire
Dark Force Rising
The Last Command