I attended Dale Shewalter's funeral this last Sunday. It was a very good service [my father served as Master of Ceremony], with lots of good stories about Dale and his life. Dale Shewalter died young, but he nevertheless had a full life. I learned lots of things that I never knew about Mr. Shewalter. This is not really surprising, because I knew him in his role as an elementary school teacher, and he did so many other things. After the service, the Magistra turned to me and said "I never knew how much Mr. Shewalter was like you." Honestly, I didn't either.
I knew about his service with the Marines in Vietnam, because he had shown us slides he had taken while he was there. I of course knew about the Arizona Trail as well, because we got to mark out portions of the trail on class field trips. I was exposed to his passion for Southwest history in school, but I have a much different appreciation for it as an adult than I ever could in the 4th grade. What surprised me at first was his love of firearms. However, thinking of his time in the Marines and his love of the Southwest, it really was not all that surprising after all. You just don't tell your school kids about the neat guns you like.
There were a lot of little things I had forgotten until the service as well. Mr. Shewalter had a love of puns, did an amazing Bullwinkle the moose impression, and played the harmonica. He used to do a little dance called the Shewalter shuffle, and he was always in a hurry, striding about on his long legs. He liked poetry, such as The Cremation of Sam McGee. I also remember he liked the ballad The Wreck of the Edmund Fitzgerald:
I scanned the program and placed it online here for those who were unable to make it to the memorial service. It was packed in Ashurst Auditorium, they had to bring out extra chairs. People from all parts of Dale Shewalter's life were present, his brother and sisters, a teacher who taught him, his students, his colleagues, outdoor enthusiasts, and other Marines.
I regret that I never really had the chance to know Dale Shewalter when I was an adult, but I feel that I have grown into a man he would be proud of. I do know that my dad kept him updated when they ran into each other, "Mr. S&W was asking about you," he would say. We go to our rest in the hope of rising again, so hopefully I'll get to see him again someday. Stand down Marine, you are relieved.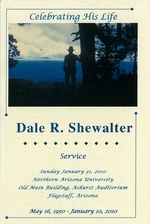 Dale Shewalter Funeral 1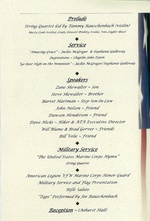 Dale Shewalter Funeral 2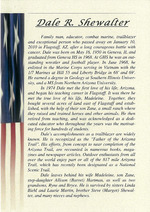 Dale Shewalter Funeral 3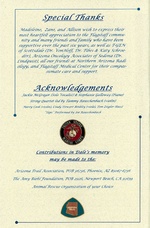 Dale Shewalter Funeral 4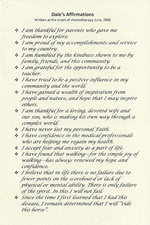 Dale Shewalter Funeral 5
Places to contribute in memory of Dale's life, per his family:
Any animal rescue organization