DIY
Altoids TIn Survival Kit Update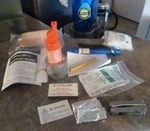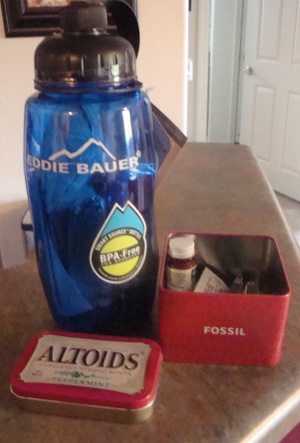 It has been a while since I did anything with my Altoids Tin survival kit. I have acquired a few additional items, but progress has been slow while I have been concentrating on different things.
I decided to make a few substitutions as well, and see how well it all goes. I'll probably end up with a couple of complete kits by the end. I wanted to get everything together first, and then worry about trimming it all down to fit in the Altoids tin later. With that in mind, I grabbed the tin from the watch I received for my birthday as a handy storage container. It has a better seal on it that the Altoids tin, even though it is quite a bit bigger. I also purchased an Essential Day Pack Bottle from Eddie Bauer that has a number of survival items in it while shopping today. It was only $10, so I consider this quite a score.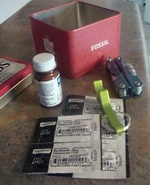 Kit itemsItems for Altoids kit
First aid antibiotic
Multitool with integral flashlight
Bottle opener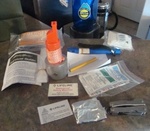 Eddie Bauer Essential Day Pack BottleEddie Bauer Essential Day Pack Bottle
1 L plastic bottle
Clip
Waterproof matches
Multitool
Flashlight
Emergency blanket
Foil
Whistle
Mirror
Duct tape
Paper & pencil
First aid supplies
Compass
Salt/Sugar/Boullion/Tea
1 L plastic bag
For now, I'm stealing the matches, foil, paper & pencil, first aid supplies, food, and plastic bag and stuffing them in the watch tin.