J. Manfred Weichsel
She Was Asking For It: Tales to Make You Vomit by J. Manfred Weichsel Book Review
She Was Asking For It: Tales to Make You Vomit #1 by J. Manfred Weichsel [Amazon link] is one of the most horrifying things I've read. The title and cover are absolute truth in advertising. This book is disgusting, revolting, and perverse. Let the reader beware.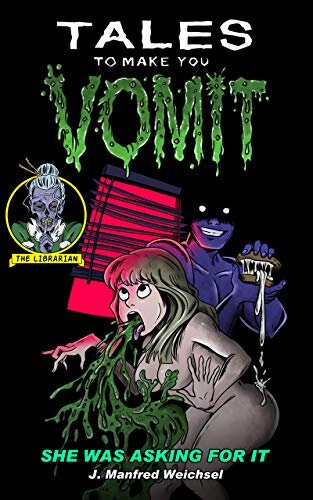 So given that I am unapologetically in favor of the good, the true, and the beautiful, what interest would there be in something that is written to unsettle you? She Was Asking For It is not beautiful, and the characters within are certainly not good. However, it is firmly within the tradition of horror and weird tales that illustrate truth by means of exaggeration.
And perhaps the most horrifying aspect of She Was Asking For It is that its description of the perverse sex lives of people in the movie industry is not only accurate, but probably an understatement . Because people are weird, and certain environments are corrosive to morality, and because truth is always stranger than fiction.
So if you've got the kind of sense of humor that delights in nuclear-grade satire, then She Was Asking For It may be for you.
I received a free copy from the author.
My other book reviews | Reading Log
Other books by J. Manfred Weichsel
Expedition to Eden Book Review
Ebu Gogo Book Review
Five Maidens on the Pentagram Book Review