What use is the valor of brave men in the service of evil goals? Stryker's War is the most gut-wrenching book in the Order of Centurion series so far because it takes a good hard look at the reality that not everything that can get a soldier killed is worth dying for.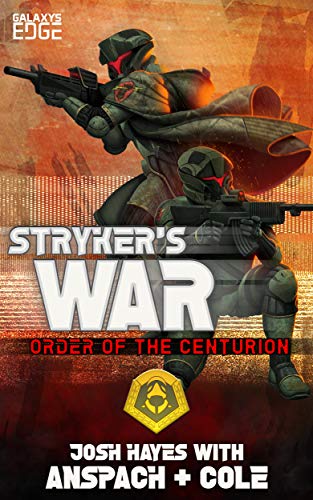 Dear Mom and Dad,

If you are reading this, I'm not coming home.
The opening lines of each chapter of Stryker's War are the words of a dead man. A man who clearly believed in the view of war in St. Thomas Aquinas's Summa Theologica, which files war under love of neighbor. The letter writer saw his service in the Legion as a noble pursuit, ordered to the common good, the tranquillitas ordinis, the well-ordered peace. It is not enough that there is an absence of conflict. You must also see that justice be done.
Unfortunately, the Galactic Republic isn't really in the business of dispensing justice any more.
They are still in the business of delivering a smack down to anyone who dares to defy them, which the Legion is willing and capable of supplying. Curiously, the House of Reason, and its appointed officers, do not take the Roman model of solitudinem faciunt, pacem appellant. With increasing political control of the Legion, it would be easy to crush their enemies and see them driven before them, but this isn't what we see.
The Legion is a calling and the day I signed up, I gave my life to that calling.
I would guess the reason is two-fold: a numerous and well-equipped Legion is a more dangerous Legion, including to the House of Reason. Maybe worse, in their eyes, is that a visibly successful Legion would have greater political legitimacy. This is likely a simple matter of not enabling a likely enemy. But also, it seems that the House of Reason feels that war must be a little wicked, because it costs money.
With this two-fold reason to never really give the Legion what it wants, even as the House of Reason needs it to take care of its problems, we come to the world of Gestor. Unwilling to commit more than a platoon to fix a security problem at a valuable mining operation, everything quickly spirals out of control into one of the most epic charlie foxtrots I have ever seen.
Every Legionnaire that died felt like I lost a friend. I wanted to scream at the stupid point who wouldn't call in close air support even to save himself. Rage boiled up against the fools who sent so many men to die because they didn't want to show up in force. My heart broke for the insurgents too, who just wanted their fair share of the profits of their own mine, and who were getting cheated not just by the Republic, but by their underworld contacts as well.
Now I can see why so many were willing to join up with Goth Sullus, and how even the loyal remnant was willing to invoke Article 19 and go to war against the Republic. This is intolerable. Yet, this much, and worse, was tolerated nonetheless.
There are some bad people in the galaxy, and sometimes they need to be taught a lesson. The Legion teaches that lesson well.

I might have finally met my match, but don't want you to be sad. I stood with my brothers against evil and fought for those who couldn't.

I only hope I made you proud.
Until the day finally came when good men could stand it no longer.
I was provided a copy of this ebook by the publisher for free.
My other book reviews | Reading Log
Galaxy's Edge season 1:
Legionnaire: Galaxy's Edge #1 book review
Galactic Outlaws: Galaxy's Edge #2 book review
Kill Team: Galaxy's Edge #3 book review
Attack of Shadows: Galaxy's Edge #4 book review
Sword of the Legion: Galaxy's Edge #5 Book Review
Tin Man: Galaxy's Edge Book Review
Prisoners of Darkness: Galaxy's Edge #6 Book Review
Imperator: Galaxy's Edge Book Review
Turning Point: Galaxy's Edge #7 Book Review
Message for the Dead: Galaxy's Edge #8 Book Review
Retribution: Galaxy's Edge #9 Book Review
Tyrus Rechs: Contracts & Terminations:
Requiem for Medusa: Tyrus Rechs: Contracts & Terminations Book 1 Review
Takeover
Takeover: Part 1 Book Review
Takeover: Part 2 Book Review
Order of the Centurion
Order of the Centurion #1 book review
Iron Wolves: Order of the Centurion #2 book review