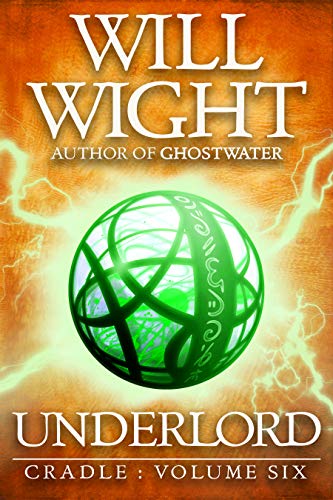 Underlord: Cradle Book 6
by Will Wight
Kindle Edition
Published by Hidden Gnome Publishing (March 1, 2019)
ASIN B07NJ3B6HN
If you have been following along with the Cradle series, you will have a pretty good idea of what to expect by now. Our young protagonist, Wei Shi Lindon Arelius, will have adventures, face insurmountable odds, and advance his Path. Wight has got a good thing going here, and he sticks to what works. I've said it before and I will say it again: these books are just fun. But I want to stop a moment and look at why it works. Indulge me.

And work it does. When Underlord released on March 1st, 2019, it rose at least as high as #5 on Amazon's Kindle store, and maybe higher. Wight doesn't run any sort of amazing social media campaign, his books mostly sell by word of mouth and through the praises of reviews like this one. His release schedule helps, you don't have to wait years in between installments. But I think this is good evidence that Wight gives his readers what they want. What they [I] want is a good story, and Wight does that.
Fresh off of reading J. D. Cowan's multi-part review of Sam J. Lundwell's Science Fiction: An Illustrated History, I have a new appreciation for just how good the Cradle series is, and new gratitude to Will Wight for writing the things I like to read. In particular, I learned something about just what it is I like about stories like this. Lindon needed insight into himself in order to advance, and in much the same way I needed insight in what makes a story good in order to be able to understand my own tastes.
One of the things I learned from Cowan's review is that science fiction isn't really a genre. In fact, debates about what is or isn't science fiction tend to get bogged down, because the usual definitions don't cut nature at the joints. By analogy, what is usually called fantasy isn't a genre either. Cowan proposes instead that science fiction, fantasy, and horror are all subgenres of adventure fiction, which is meant to evoke the emotion of wonder in the reader.
Wonder is a trait from adventure fiction and its subgenres fantasy and horror. It is the adventure of exploring new lands, peoples, and possibilities.
This was the insight that I needed, because now I can understand what I like, and what I don't. There is an irreducible element of personal taste in all of our entertainment, but I learned that adventure fiction is the kind that I like to read, precisely because the emotion of wonder is what I am after. There are lots of books labeled as sci fi or fantasy that I don't like, but this is because genre, the emotion meant to be evoked, has been confused with milieu, or setting.
In the sense that I mean the term, setting a story in the future doesn't make it science fiction. Swords and dragons don't make a book fantasy either. If the emotion the author is trying to invoke in me is despair or rage, I don't really want to read that book, no matter what trappings it has. I finally understand why Tolkien insisted that The Lord of the Rings was a romance. He was connecting his work with an older tradition, not inventing a new one.
Wight's books work for me because he is taking me on an adventure! I see the remarkable world of Cradle: Iteration 110 though Lindon's eyes, and I get to see him grow up as he learns about the marvelous world in which he finds himself. The speculative fiction element is subdued, but not wholly absent. The focus here is on Lindon and his journey, rather than exactly what kind of society you would get if we lived in a simulation and cheat codes were enabled. There is just enough thought given to the structure and sociology to make it plausible. Everything else is about fun.
My other book reviews | Reading Log
Other books by Will Wight
Cradle Series:
Unsouled: Cradle Book 1 Review
Soulsmith: Cradle Book 2 Review
Blackflame: Cradle Book 3 Review
Skysworn: Cradle Book 4 Review
Ghostwater: Cradle Book 5 Review
Traveler's Gate series:
House of Blades: Traveler's Gate Book 1 Review
The Crimson Vault: Traveler's Gate Book 2 Review
City of Light: Traveler's Gate Book 3 Review