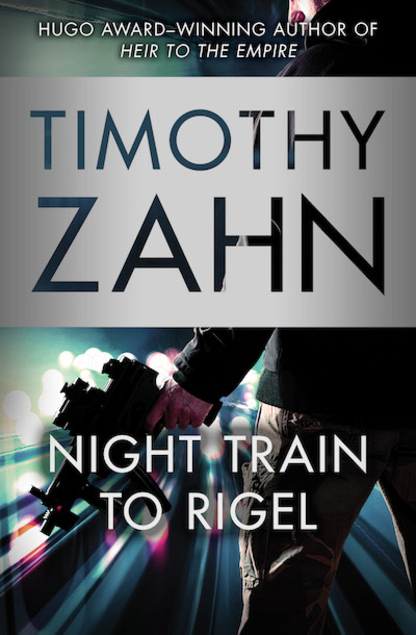 Night Train to Rigel: Quadrail Book 1
by Timothy Zahn
Kindle Edition, 394 pages
Published by Open Road Media Sci-Fi & Fantasy; Reprint edition (July 28, 2015)
ASIN B00Z8POQDO
Night Train to Rigel is a murder mystery set on an interstellar train, mixed with something very much like Cold War wilderness of mirrors spy intrigue. I have to assume the model Zahn used for the former is Christie's Murder on the Orient Express. This turns out better than I might have expected. Zahn gives us some color about the Quadrailed trains that traverse the galaxy, but this is the kind of science fiction that is about the ultimate effects of technology on society, rather than science fiction about technology itself.

Frank Compton, his protagonist, is certainly an investigative genius along the lines of Hercule Poirot or Sherlock Holmes, observant and clever, able to see his opponents both metaphorical and literal from the inside out. Also eccentric and a bit of a loner. I might also add that he is something of a Bayesian, or a superforecaster, continually updating his predictions as new information comes in.
The other influence apparent in Night Train to Rigel is Film Noir, and Hitchcock in particular. Compton loves making allusions to classic movies, regardless of whether his alien interlocutors are likely to have any idea what he is talking about. Which is OK, since these jokes are clearly intended for his amusement [and ours].
And since those are the models Zahn is using, it unsurprisingly turns out that Frank Compton has gotten himself into something far deeper than he really wanted to when he agrees to investigate the mysterious threat to the Quadrail system that links the galaxy together. Of course, no one is really who they seem, and everyone has an agenda and ulterior motives, which largely remain hidden from view until the denouement. This is all part of the fun. And it was really fun.
Of course Frank Compton saves the day. However, there is always more going on underneath the surface than first appears. There are four more volumes in the Quadrail series, and since this one hooked me, I then had to run out and find the rest before I went on vacation, because I really wanted to see what happened. This is a fun series, and well worth your time.
Other books by Timothy Zahn
Soulminder
Heir to the Empire
Dark Force Rising
The Last Command