Ways to think about machine learning
I've been a skeptic about artificial intelligence in general, and a critic of the ways the actual technology has been hyped. This is a pretty reasonable take from someone who is willing to invest a lot of money in machine learning. Machine learning is another kind of automation. We've been seeing big things come out of automation for 100 years, it makes modern life possible, but it is easy to lose perspective.
Why the Future of Machine Learning is Tiny
An example of what machine learning can mean in practice.
Applied mechanics of fracture with slo-mo video! Why does a piece of spaghetti break into three or more pieces when bent? Now you can find out!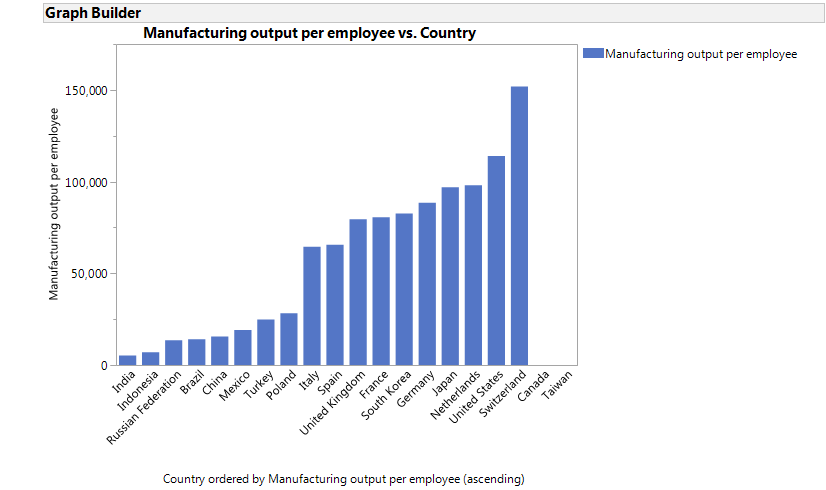 Global manufacturing scorecard: How the US compares to 18 other nations
Manufacturing stats are a subject of interest to me. I don't find much of interest in the Brookings manufacturing scorecard, which is just their subjective rating of various things. Rather, I plotted the manufacturing output for each country per capita, and per person employed in manufacturing, a kind of crude productivity number.
I think the *really* interesting thing here is how much Switzerland sticks out. The parts of the economy in Switzerland I am most familiar with are chemical precursors for pharmaceuticals and medical devices, which are both high value sectors.
When Evidence Says No, But Doctors Say Yes
This is a great article on how hard it is to find clear evidence that common therapies work, and how hard it is to disseminate that knowledge once we have it.
Israeli space probe to land on Moon in 2019
I was going to say this isn't surprising from a country that also made their own nuclear weapons, and then I saw the money for it came from a South African businessman. Israel and South Africa *probably* cooperated on nuclear weapons too.
'This waterfront needs a highway': the huge mistakes cities keep making
Good examples of what not to do.
Thou Shalt Not Wirehead: Religion vs Gratification
This is pretty good. I think I mostly agree, except I am also very interested in whether religion is *true*. Religion can be pretty helpful in encouraging behaviors that help you in this world, for example, the prosperity Gospel is pretty popular because it actually works out that way. If you give up drinking, gambling, and whoring, usually your life materially improves. But sometimes religion can make you do things that are the opposite of helpful in this world. For example, the Xhosa.
A reflection on how the political coalitions in the United States came to be.
Does Free Trade Bring Lower Prices?
Dani Rodrik reminds us that we have to describe the world as it is when we make economic projections, not a model of it.
Donald Trump tells us truths we don't want to hear
Matthew Paris argues that Donald Trump acts like an Emperor, and you shouldn't be surprised by that.
What is the value of political correctness to a minority in society? And is its cost?
Shortwave Trading | Part III | Fourth Chicago Site, East Coast, Patent, Regulation, and Farmer Kevin Mystery
High volume traders are rolling their own radio networks to get a leg up on the competition.
Traditional Euro-bloc: what it is, how it was built, why it can't be built anymore
The perfect counter-point to my post on modern urban development. We can't just build things because we like how they look, we have to care about money, and how neighborhoods evolve, and what will actually work for the people who live there.