Stouts and Porters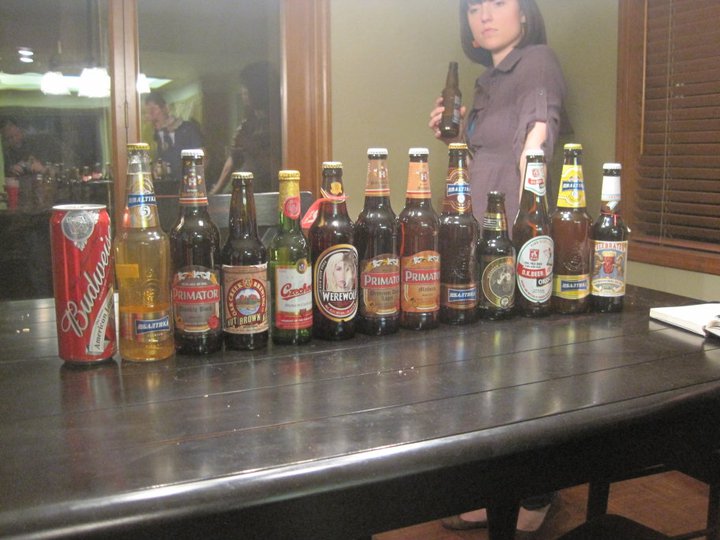 December 2010 Lineup
Porters come from Merrie Old England. The first recorded examples of the style are from the 1700s. They were blended beers, a combination of a stale or old ale, a new ale, and a weak or mild ale. Various flavors could be achieved by different blends. After blending, the beer is then aged for several months in wooden maturation vats. This was a beer of the the Industrial/Scientific revolution. The name reportedly comes from the popularity of the beer with the transportation workers of London.
Stouts are a kind of porter, or vice versa. Stouts are porters with blackened or roasted grains. Sometimes, this grain is not actually malted. Originally, stout referred to the strength of a beer rather than its style, but over time the roasted flavor of the most popular stout beer, Guinness, helped to spawn a style that can range from mild to extremely alcoholic.
Sierra Nevada Fritz and Ken's Ale
A 30th anniversary beer from Sierra Nevada, they teamed up with the founder of Anchor Brewing to create this Imperial Stout [Type 36]. Imperial or double stouts combine fruity flavors with strong roasted grains and high alcohol content. This one tasted of cocoa, hops, and nuts. It has a noticable alcohol warming as well. 9.2% ABV. 1 beer.
Rogue Chocolate Stout
An American take on the Stout style [Type 35], this beer tastes much like a chocolate soda from a soda fountain. It has a solvent taste to it, with a slighty rancid and coppery finish. 6.0% ABV. 3 beers.
Rogue Double Chocolate Stout
Another Imperial Stout, the double chocolate stout is smoother than the chocolate stout. It is a darker beer, with more of a cocoa flavor. 8.0% ABV. 2 beers.
Rogue Double Mocha Porter
Previously known as XS Imperial Porter, this is a robust porter [Type 48]. It is much less sweet than the chocolate stouts, with a bit of an alkaline finish. 8.2% ABV. 3 beers.
Stone Smoked Porter
As smoked beers go, this one is pretty mild. A standard porter [Type 34]. The smoke flavor is suggestive rather than overwhelming. Slighty bitter and metallic. 5.9% ABV. 3 beers.
Anchor Porter
A little bit nutty, 5.6% ABV. 2 beers.
Dogfish Head World Wide Stout
This beer is a little unbelievable. 18.0% ABV! It is priced to match. The flavor is unusual, vinegar and mustard, with yeasty notes. Pretty good for the alcohol content. Fun, but probably only worth drinking on a lark. 1 beer.
Oatmeal Stout home brew
A home brew brought to the tasting. It is an Oatmeal Stout [Type 49]. Good flavor, easy drinking, but a little watery. Not bad though. You could down a large number of these.
Kalamazoo Stout
Made with brewer's licorice, it says. This concerned me at first, but the licorice flavor is quite nice. Very subtle. A bit of a fruity taste, like apples. 6.0% ABV. 2 beers.
Home brew
Another home brew, but unfortunately an undistinguished one.
Black Butte Porter
A passable porter, but it really pales in comparison to the other beers available tonight. 5.2% ABV. 4 beers.
Left Hand Milk Stout
A sweet stout [Type 35], of the milk stout sub-type. It has added lactose for extra sweetness. Very smooth and flavorful. One of the fan favorites of the night. 5.2% ABV. 2 beers.
Lump of Coal
A foreign/export stout, this type was created to be shipped across the ocean on steamships. [Type 22] Tends to be stronger to survive the voyage. 8.0% ABV. 4 beers.
Dogfish Head Chicory Stout
You can smell the chicory, a good addition to this style. A tasty beer, with a pleasing but unusual flavor combination. 5.2% ABV. 2 beers.