Brown Ales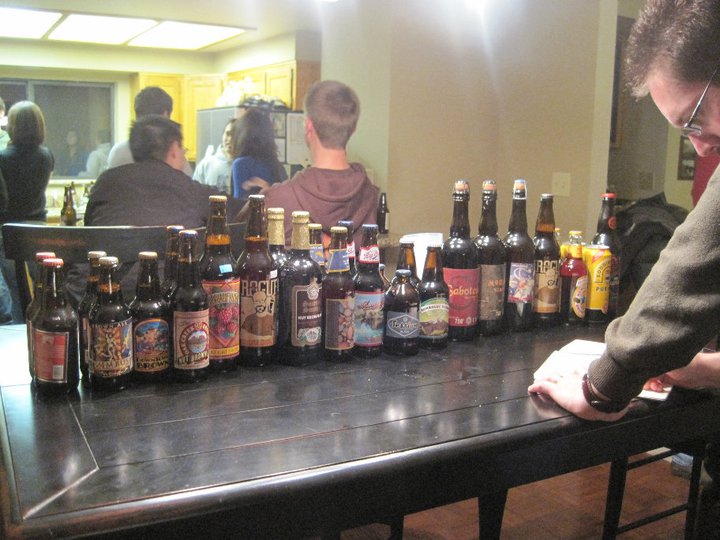 November 2010 Lineup
Brown ales originate in England. The original brown ale style is made from 100% brown malt. There is some difference between American brown ales [Type 33] and English brown ales [Type 47], with the American styles tending to be drier and hoppier.
New Belgium La Folie
Although labeled by New Belgium as a Sour Brown, this beer is very much like the Flanders Red [Type 28], a sour, fruity beer. Nearly everyone did not like this beer, but I loved it. The intense sourness coated your tongue with an aftertaste of vinegar and sour cherries. A very unusual beer. 1 beer/6 beers. 6.0% ABV.
Boddington's Pub Ale
Not a brown ale, but an English Pale Ale, we used this to cleanse our palates after the Flanders Red.
Newcastle Brown Ale
Newcastle is one of the most widely distributed English Brown Ales. 4.7% ABV. A lighter brown ale, Newcastle is a sweet malty beer, easily drinkable and easy to find too. 3 beers.
Rogue Hazelnut Brown Nectar
The Magistra's favorite of the moment. Rogue's Hazelnut Brown is an intensely full, nutty beer. It has tastes of chocolate that make it taste like Rocky Road ice cream. Our host favored this beer as well. 6.2% ABV. 1 beer.
Nostradamus
This beer tasted like apples and malt. Very thick, much like a barleywine. This is a Belgian dark ale [Type 29]. 9.5% ABV. 1 beer. A host favorite.
Mountain Standard Reserve
Sweet and foamy with an intense burst of flavor as it hits your tongue. 8.5% ABV. Pretty expensive for the taste. 3 beers.
Saboteur
Aged in oak barrels, this beer tastes like Kentucky bourbon. Not as popular due to the oakiness, but it has a sweet finish like pineapples. 3 beers. 10.0% ABV.
Humboldt Brown
A hippie beer brewed with hemp. This actually isn't that unusual, because hops are a member of the Cannabaceae family anyway. 5.7% ABV. Good flavor, but nothing special. 3 beers.
Session Black
A black lager or schwarzbier [Type 53], Session Black is a smooth dark beer with little hops and intense malty sweetness. 3 beers. 5.4% ABV
Moose Drool
A drier brown, with cocoa notes. 5.1% ABV
Bitch Creek
An ESB [Type 45], this beer starts bitter but finishes sweet. 6.0% ABV
Samuel Smith's Nut Brown Ale
5.0% ABV
Lost Coast Raspberry Brown
A rather weak tasting beer, the raspberry was not backed up by anything more substantial. 5 beers. 6.5% ABV
Abita Pecan Harvest
5.0% ABV. Another host favorite.