Reviews
Beaver Street Brewery Ahhh...Bock

Beaver Street Brewery Ahhh...Bock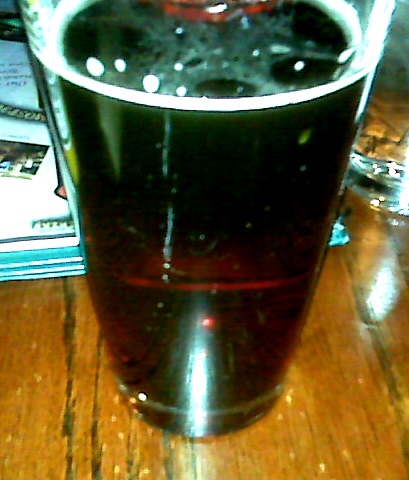 Beaver Street Brewery Ahhh....Bock
Bock Style Lager 7.2% ABV

This is a pretty terrible picture, but you can at least see the dark maltiness of the beer. I ordered one of these with Beaver Street Brewery's Shrimp Gordita Platters. I enjoyed them together, the creaminess of the beer went well with the spicy, crunchy shrimp. This beer is thick. It actually reminded me of a malted milkshake. The roasted malt predominates the flavor, with very little hops. The Magistra took a taste and said that it tasted baked, which I thought was a pretty good description. The head was thick and fluffy, and had quite the flavor itself.
Rating
This is a good beer if you like to savor your beverages. It was so thick and strong that it took me an entire meal to finish just one. I liked it immensely, but you cannot easily enjoy too many of them without feeling excessively full. Given the alcohol content, that is perhaps for the best.