Reviews
The Starborn Heir: Zack Lancestrom Book 1 Book Review
The Starborn Heir by D. J. Bodden [Amazon link] is a heist, a caper, an adventure, and a space opera. That sounds like a lot, but it feels bigger on the inside than it might appear from the outside. Since book 2 is already queued up for release in May, you know that Zack Lancestrom's adventures have only just begun.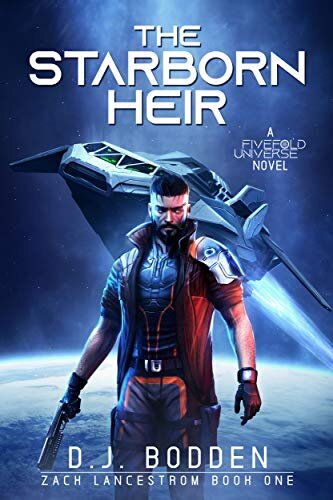 I enjoyed The Starborn Heir, as I am in general a fan of this kind of space opera, but this book seems to have Bodden's characteristic flavor. Nothing is ever quite what it seems at first. Zack, for example, manages to be rather likeable, despite his arrogance and privilege. More than a bit of a lovable rogue. Try him, you'll see.
When Zack decides to throw away his comfortable sinecure in the planetary government of Politeia, it is perhaps the first real decision he has made for himself. Politeia is a well-oiled machine, and Zack has been in long preparation to take his father's place. Unfortunately, that turns out to be not what he wants. What he wants, is the freedom and adventure of space [the space opera part]. But to make that happen, first he has to figure a way offplanet when he no longer has any money, and his father put him on the no-fly list, just to be sure.
Thus, The Starborn Heir makes its first pivot, into a heist. We get to follow Zack has he assembles his team, schemes, steals, and escapes. Zack hooks up with an old flame, hires a fearsome mercenary, recruits an engineer, and frees a very, very old AI. Any like any good caper, everyone has got their own angles they are working. But there's more. Nothing is ever what it seems. The political machinations of Politeia, the factions, infighting, and corruption, are just a taste of the wider universe.
And what a universe we get glimpses of! As we move quickly through the different phases of the book, new and interesting revelations come quickly. For example, at first it seems like Zack's quest is mostly a bit of personal rebellion, but gradually we see that Zack may not exactly be the architect of his own destiny, that there is insurrection afoot on Politeia, the shadow creatures are spreading, and the star spiders are playing the long game.
What are the shadow creatures and who are the star spiders? Why don't you grab a copy from Amazon and find out?
You can find more about the Zack Lancestrom series at The FiveFold Universe
I received an advanced review copy from the author.
My other book reviews | Reading Log
Other books by D. J. Bodden
The Illusionist series
Nomad Soul: The Illusionist Book 1 review
The Black Year