Jon Mollison
Overlooked Again: The Phoenix Ring Book 2 by Jon Mollison Book Review
Joe Smith, the forgotten man, returns in Jon Mollison's Overlooked Again [Silver Empire affiliate link]. Joe finally faces a true nemesis, a Prime with preternaturally keen hearing and sight, not to mention Gallic unflappability. This is also the first book two in the Heroes Unleashed universe, so we get to see Joe play in Halo City, the setting of another book in the series. Finally, we also begin to see the true nature of Joe's enemies, the Phoenix Ring, and just how far they are willing to go in their drive for power.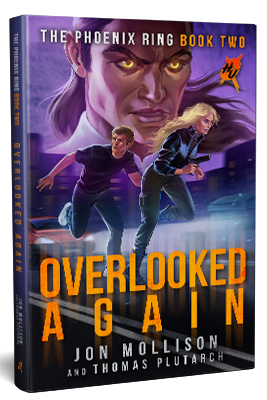 Fast-paced would be a bit of an understatement when describing Overlooked Again. In true pulp style, Joe rockets from one adventure to another, crossing the breadth of the United States twice, and even being whisked away to Merry Old England by a nefarious servant of his enemies.
Things move equally fast between Joe and Celeste, the only woman who sees Joe [well, most of the time]. Raising a family is difficult in a dangerous profession, but I'm sure they'll figure something out. After all, if being a Prime is heritable, staying hidden should be a snap.
Or, maybe not, since it turns out that the Phoenix Ring dabbles in powers far beyond those of Primes. Joe's allies in the Order of St. Hadrian can perhaps help him, but he doesn't yet know if he can trust them. An odd position to be in for a man who is accustomed to not really existing.
I found this book a quick read, and a fun one. I very much wanted to see what happened next, and can't wait for book three. In the meanwhile, we should have lots of other adventures in Heroes Unleashed to keep us busy.
My other book reviews | Reading Log
Books from Silver Empire
The Paxton Locke Series
by Daniel Humphreys
Fade: Paxton Locke book 1
Night's Black Agents: Paxton Locke book 2
Come, Seeling Night: Paxton Locke book 3
by Morgon Newquist
Heroes Fall: Serenity City book 1
by Cheah Kit Sun
Hollow City: Song of Karma book 1
by J. D. Cowan
Gemini Warrior: Gemini Man book 1
by Jon Mollison
Overlook: The Phoenix Ring book 1
The Prodigal Son Series
by Russell Newquist
War Demons: The Prodigal Son book 1