Books
Black Fall by D. J. Bodden Book Review
Teenaged vampire stories aren't my thing. Fortunately, Black Fall [Amazon link] isn't really a teenaged vampire story. Oh sure, you have awkward high school romance and family drama, but you also have world-weary vigilantes, self-deprecating werewolves, and literal information gathering spooks.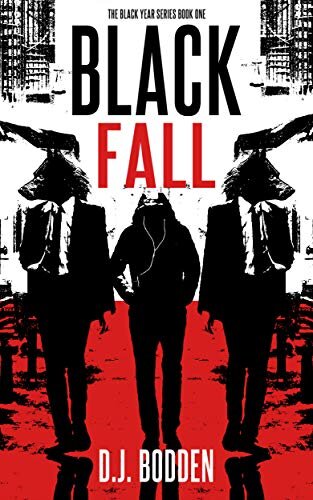 While in general I try to avoid anything labeled urban fantasy, and vampires in particular, this marks the second time I've been pleasantly surprised by such a book. I just might have to update my priors.
One of the reasons I avoid vampire books is that they make me uncomfortable. Going back to adventure fiction's Gothic roots, vampire stories are often metaphors for the perils of unbridled lust. Tim Powers' Stress of Her Regard [Amazon link] is a hell of a book, but I find it harrowing precisely because it accurately represents moral dissolution from the inside. Anne Rice's vampire novels were [are?] immensely popular because they offer sexual thrills. And this is why I avoid them.
While there is a sexual element to vampirism in Jonas Black's world, Jonas himself is far too busy trying to grow up and find his place in the mad mad world he finds himself thrust into to explore it much. In tone, this book very much seems to be in the older Heinlein juvenile mode: some romance, no sex, a lot of growing up, and a crazy adventure. I approve.
There is also a bit of overlap with Tom Clancy style thrillers, and military scifi, particularly in the fairly dark, self-deprecating sense of humor the book as a whole displays. Especially the hunters, otherwise normal humans [well, they aren't vampires or werewolves] who seem largely drawn from the ranks of veterans, who find out the hard way that PTSD and TBI aren't the worst experiences of their lives.
It would be expected that nothing in Jonas' world is what it seems, but everyone is running a plot of their own, so you really can't trust anyone or anything. However, Jonas needs to find friends and allies that he can trust. I liked how all this played out, so I won't say much more here. Go see for yourself.
Religion isn't a major part of the book, but when a character shows up who is a priest, he absolutely feels like a priest should. I always appreciate authors who can convincingly write a character with faith, especially so when it isn't a big part of the story. Bodden just wrote this priest the way a priest would be who provides spiritual comfort to the rough men who move in the supernatural underworld.
In a nice touch for the digital age, Bodden has provided a Youtube playlist of the songs that his main character Jonas listens to over the course of the book. I feel like you can a whole different sense of someone by what they choose to listen to that is hard to put into words, and I appreciate that Bodden gave us this window into his character.
As you can see from the review, what really makes this book is a lot of little details done just right. You can read dozens, or maybe hundreds of books like this one. So why choose Black Fall? Because it is fun, fast-paced, and funny. And because despite his legacy, Jonas really is just an ordinary kid who's trying to figure what the right thing to do is.
I was provided a copy of this book by the author's publicist.