Reviews
Clockmaker by Kristen Brand book review
Action-packed would be an understatement for Kristen Brand's Clockmaker [Silver Empire affiliate link]. From the beginning, when a desperate and cash-strapped Captain Melek takes a job that she knows is too good to be true, the Sultana and her crew are flying, and fighting, for their lives.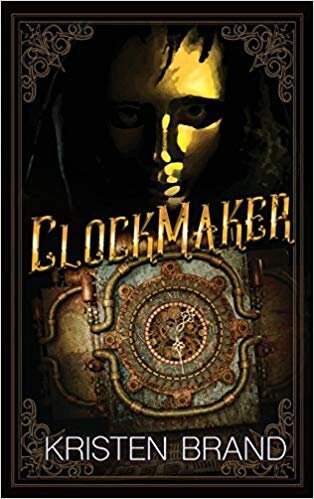 It has been a looong time since I last reviewed a steampunk work here. In principle, this is a style of work that I rather like, but since I was so disappointed in the anthology I reviewed in 2009 I have largely stayed away. Because Clockmaker is published by Silver Empire, I was willing to give this one a chance, and I am glad that I did.
Clockmaker is an adventure, a romance of the sky and of the wind. Accordingly, Captain Melek is quick with her wits and her fists, although she does have a bit of a preference for the latter. I have to imagine that Captain Melek shoots first on principle. Captain Melek's preferred method of dealing with crew members questioning her authority is to beat them senseless. Fortunately, since she is the heroine, she is superior in degree to all comers. An interesting problem that can arise with this strategy of crew management is that you have the problem of being the fastest gun in West. Someone is always looking to displace you, and you can, in principle, lose authority over your crew if bested in this fashion. Melek is acutely aware of this, and worries about it.
Since it is also steampunk, that means it overlaps just a little bit with alternative history. One of the hallmarks of alt-history is the airship, a technology that was promptly displaced by airplanes in our world, but that is just too fun to ignore in fiction. With an airship, you can combine the fun of piracy on the high seas with relatively rapid travel and menacing clockwork contraptions. We get all of this in spades. Although, I would like to see Melek's enemies, supposedly bright men, had heard of gorgets.
Alt-history is often also a good opportunity to engage in the reactionary aesthetics common to Mad Men, Downton Abbey, and the recent Paddington Bear movies. In our democratic age, aristocracy and hierarchy are suspect. However, as the popularity of all of these demonstrates, we kind of like fantasizing about living in worlds that are
part of a stable community, rooted in custom and place and history. There is a rhythm to the year, based not only on the church and on the commemorations of national history, but on the inescapable realities of an agricultural community – planting, harvest, haymaking and so on….
Steampunk worlds are of course part way through the process of losing all of these things, but they have more of them than ours does. And more airships, obviously.
Clockmaker feels like it could be the start of a great series, wherein Captain Melek guns down pirates, flies the blue skies, and perhaps even finds love. Let us see how it turns out.
I received a free copy of this book via Booksprout.
---
Silver Empire books are available directly through the publisher, so I have linked to their online store.
Silver Empire also features a book club [Silver Empire affiliate link], with monthly and annual plans, that allows one book each month.
My other book reviews | Reading Log
Other books from Silver Empire
by Morgon Newquist
Heroes Fall: Serenity City book 1
by Cheah Kit Sun
Hollow City: Song of Karma book 1
by J. D. Cowan
Gemini Warrior: Gemini Man book 1
by Daniel Humphreys
Fade: Paxton Locke book 1