Reviews
Locks and Keys Throughout the Ages by Vincent J. M. Eras Book Review
This isn't my first introduction to the classic volume, Locks and Keys Throughout the Ages [Amazon link]. The master locksmith who ran the university lockshop in which I worked as a student had a copy of this book, and it was a joy to re-acquaint myself with Vincent Eras' beautifully illustrated work thanks to LibraryThing's Early Reviewers program. Even if you don't have a fascination with locks and their construction, the many photographs and illustrations, digitally restored in this new edition by Artisan Ideas, are worth the price of admission.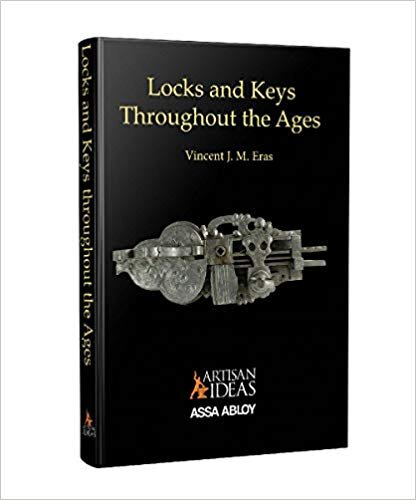 The book is divided into three main sections: the historical development of locks, modern [mid-twentieth century] lock technology, and high security locks for safes and strongroom doors.
The Historical Development of Locks
Keyed locks are a remarkably old human technology, with references in ancient literature as well as archaeological finds attesting to their antiquity. Keys have tended to last better than the more complicated lock mechanisms, but what we can find suggests that the Romans at least had warded keys similar to what nineteenth century Europe used. I didn't see any references to such in a casual search online, but the use of X-ray analysis on the Antikythera Mechanism implies both that the Greeks and Romans had the capability to manufacture more complicated machines than we usually attribute to them, and that we might tease out some secrets of the few Roman locks we have via this method.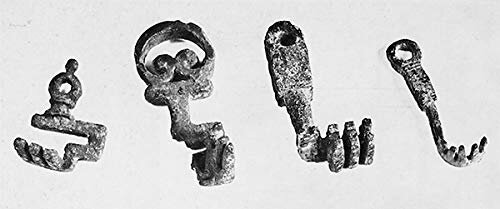 Modern Lock Technology
The section on modern lock technology covers from the 18th century onwards, when significant improvements on the Roman era warded lock began to be marketed. Based on the text, there was a push in the form of increased accuracy in machined parts, which enabled greater precision in design and assembly, and a pull in the form of increased success by burglars against the older style warded locks. The descriptions and diagrams provided are a treat, and you can clearly see how the locks in common use today are developments of the technology discussed here.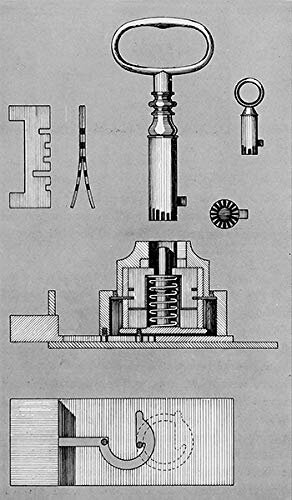 There is a brief digression into the fascinating combinatorial mathematics behind modern locks. There is more to be said on the subject, but the presentation is quite good. This is clearly an area where practice preceded theory, where inventors simply discerned a pattern that would be useful, and someone came in later and formalized it.
In a fascinating divergence from today, the author steadfastly refuses to discuss lockpicking techniques in any detail, despite admitting that all lock designers and locksmiths practice the art. I suspect part of the reason is that today lockpicking is hardly ever the means a burglar gains egress to a target. Other means are easier and more successful, such as simply throwing a rock through a window, so the danger from lockpicking tutorials on YouTube is probably minimal.
High security locks for safes and strongroom doors
The final section contains the most material outside of my own experience. There simply weren't any safe deposit boxes at the university were I worked. The description of the changeable safe deposit box mechanism contained here is a masterpiece, integrating mechanism with a sequence of steps intended to mitigate risk and reduce fraud and theft. While not directly related to public key cryptography, this kind of technology serves the same purpose: ensuring everyone involved can trust everyone else by eliminating opportunities for dishonesty.

A fine work of the mechanical craft of making locks, and beautifully illustrated as well. Absolutely recommended.