Reviews
Hack: A LitRPG Novel Book Review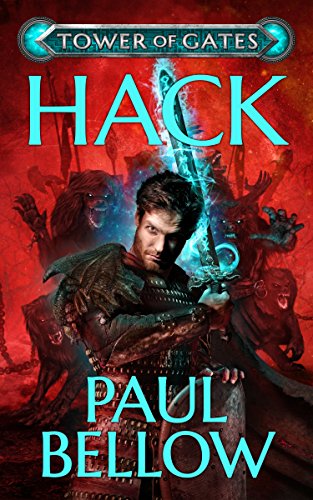 Hack: A LitRPG Novel
by Paul Bellow
348 pages
Published by LitRPG Reads (April 29, 2018)
ASIN B07CRWBPZJ
I had seen this book pop up through Amazon's recommendations several times. I hadn't been willing to take a chance on it. The cover is ridiculous. Yes, I know that pretty much every scifi/fantasy book published in the last 100 years has a ridiculous cover, but I went ahead and judged the book by its cover anyway.
I did give it a chance when Nick Cole, author of Soda Pop Soldier and co-author of the Galaxy's Edge series recommended it to me. And it was free. The first hit always is.
I messaged Nick immediately after I started reading the book, because I was already hooked. This book was just plain fun. I went in with pretty low expectations. I had heard of LitRPG before, and arguably, some books I've really liked fall into this category, it was a pretty hard sell for me. A book about kids playing a videogame? Hard pass.
Which is a funny thing to say, since I'm probably close to the target audience for this kind of thing. Both a reader of scifi and a videogamer. Fan of self-published indie works. If I'm not it, I don't know who is. But I'm also kind of picky. I've had about a 50% rate of liking new series and authors I've tried out in 2018. Paul Bellow's Hack made the cut.
Now, to the book! Eric, our teenage protagonist, desperately wants to play the virtual reality MMORPG his dad works on. He is desperate for two reasons. First, he is paraplegic; access to the fully immersive game will give him freedom of a kind he craves. Second, his best friend Sarah agreed to help him hack into the game, and he hasn't seen her as much recently as he would like to. The problem is, Sarah invited her boyfriend Josh along.
This is a simple setup, and it gives us quite a bit of energy to help keep the plot moving along, and ample opportunities for drama, misunderstandings, jealousy, and what have you. And, of course, the game is much more than it first appears. Secrets and conspiracies abound. Oh, and you can't log out. Eric's dad wasn't just being a jerk about not letting his son play the game.
As for the videogame RPG elements that make this genre what it is, such as character selection, leveling, experience points and whatnot, I find it to be a harmless conceit. The characters are kids. They grew up playing videogames, and now they are in a super immersive videogame, so they act accordingly. I suppose it won't be to everyone's taste, but we now live in a world in which you can find a book written to match just about any taste.
If you have tastes like mine, and you are looking for an entertaining read, then Hack is worth a look. But I'm still laughing about the cover.