Reviews
Phone Call with a Fish Book Review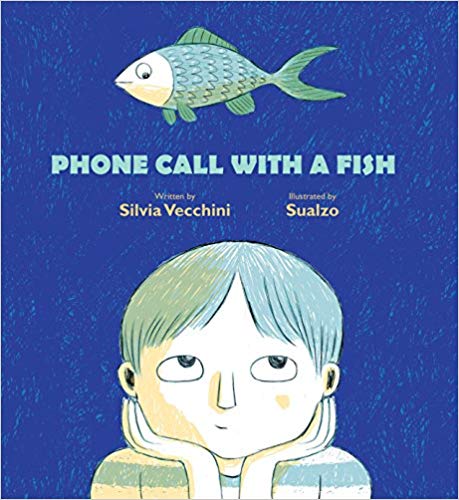 Phone Call with a Fish
by Silvia Vecchini, illustrated by Sualzo
48 pages
Published by Eerdmans Books for Young Readers (September 5, 2018)
ISBN 978-0802855107
I received this book for free from LibraryThing's Early Reviewers program.
Phone Call with a Fish is a delightful book about a little boy who doesn't talk, and a little girl who is curious about what it is like to be him. We never really learn why he doesn't speak, but it really doesn't matter why. It is enough that he is different than everyone else.
The young girl ponders what it would be like to never speak in school. His mom says he is very shy, but he talks at home, so the little girl tries to do what he does. She watches him stare out the window at school, and the way he interacts with his classmates.
Her curiosity is very sweet, the little girl manages to empathize with the silent boy even though others around her have little interest in understanding him. She finally connects with him via the eponymous phone call with a fish at the science museum.
I enjoyed this book immensely, and I appreciate the lessons that can be taught to my children. Highly recommended.