Catholic
The Long View 2006-10-06: Deus Vult; Foley Fake; Friedman's Folly; Times Hoax; Abortion & Medical Ethics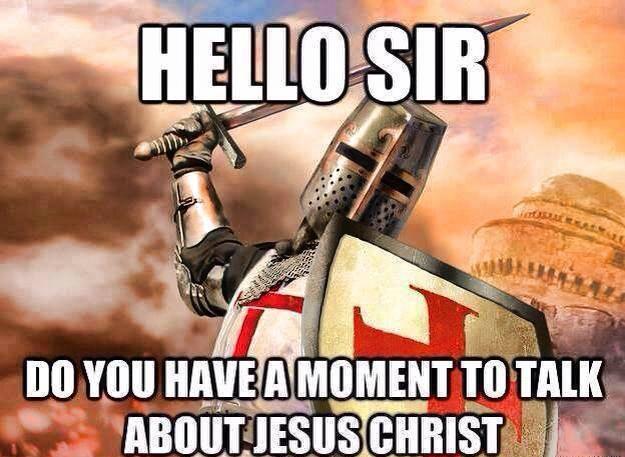 If anything, the deus vult memeing has only gotten more intense in the last twelve years.
---
Deus Vult; Foley Fake; Friedman's Folly; Times Hoax; Abortion & Medical Ethics
An old friend called a few days ago to ask me to refresh his memory about the First Crusade. What was the Crusaders' motto again?
"'Deus Vult,' I replied. "Latin for 'God Wills.'"

"That's it. Thanks, I needed that information."

"What for?"

"I'm having T-shirts made with that printed on them. I'm sick and tired of Islam."
Deus Vult may be the best slogan ever coined, but I have doubts about its use in the current context.
I don't doubt that God, in a general sort of way, would approve of the disappearance of Islam. (Islam really is just a very eccentric Christian heresy, and I begin to wonder whether its ultimate fate might not lie along a Muslim version of "Jews for Jesus.") However, nothing we could do today would include the enterprise for which Deus Vult was authorized.
The First Crusade (1095) was launched in somewhat delayed response to the Battle of Manzikert (1071), the battle that began the collapse of the Byzantine position in Asia Minor under the influx of the Seljuk Turks. More specifically, the crusade was a response to the request for assistance that came to Pope Urban II from the Byzantine Emperor Alexis II. The pope sponsored the enterprise, and the crusaders took oaths that would be unambiguously fulfilled only if they captured Jerusalem (which they did, to the surprise and annoyance of the Byzantines and their partisans among the later historians).
To put it bluntly, the First Crusade believed itself to be on a mission from God; its participants could produce documentary support for that proposition. Today, there may be prudential reasons for driving back or converting Islam, but the use of Deus Vult would imply a product endorsement that has not been authorized.
* * *
The most sensible thing yet said about the Foley Affair was Hugh Hewitt's introduction to a recent broadcast of his talkshow:
Condoleezza Rice is in Baghdad, the North Koreans are getting ready for a nuclear test, and my guest, Mark Steyn, is with me to discuss not those, but Mark Foley.
I am beginning to suspect that Karl Rove orchestrated all this, at least with regard to the timing, in order to distract attention from Bob Woodward's new book, I'm Still Relevant, Dammit!. As for the Korean nuke test, does anyone doubt that the Dear Leader is simply Rove's catspaw?
* * *
Here's the worst piece of economic history I have seen in a long time, and it comes from Milton Friedman:
The really amazing phenomenon is that, for half a century, his predecessors resisted the temptation to tax and meddle. Though a colony of socialist Britain, Hong Kong followed a laissez-faire capitalist policy, thanks largely to a British civil servant, John Cowperthwaite. Assigned to handle Hong Kong's financial affairs in 1945, he rose through the ranks to become the territory's financial secretary from 1961-71. Cowperthwaite, who died on Jan. 21 this year, was so famously laissez-faire that he refused to collect economic statistics for fear this would only give government officials an excuse for more meddling. His successor, Sir Philip Haddon-Cave, coined the term "positive noninterventionism" to describe Cowperthwaite's approach.

The results of his policy were remarkable. At the end of World War II, Hong Kong was a dirt-poor island with a per-capita income about one-quarter that of Britain's. By 1997, when sovereignty was transferred to China, its per-capita income was roughly equal to that of the departing colonial power, even though Britain had experienced sizable growth over the same period. That was a striking demonstration of the productivity of freedom, of what people can do when they are left free to pursue their own interests.
Hong Kong got rich because it was the entrepot city to China, as Singapore is for Malay World and as Miami is for the Caribbean. Only the dimmest government (like, say, the one in New Orleans) could prevent the gateway to a vast hinterland from prospering. What Friedman is complaining about is that Hong Kong is starting to implement some of the regulations that have long been a feature of advanced economies. Perhaps these regulations will be used crookedly. Ideally, though, Hong Kong's place in the scheme of things in this point in its history is to set a good example to China, whose economy is turning into the bar scene in the first-released Star Wars movie.
* * *
The readership of the New York Times is, as we know, an eccentric and in many ways psychologically fragile population. We can therefore only be astonished at the editors' cruelty in running as story as misleading as the one headlined Evangelicals Fear the Loss of Their Teenagers:
Despite their packed megachurches, their political clout and their increasing visibility on the national stage, evangelical Christian leaders are warning one another that their teenagers are abandoning the faith in droves...Their alarm has been stoked by a highly suspect claim that if current trends continue, only 4 percent of teenagers will be "Bible-believing Christians" as adults. That would be a sharp decline compared with 35 percent of the current generation of baby boomers, and before that, 65 percent of the World War II generation...The 4 percent is cited in the book "The Bridger Generation" by Thom S. Rainer, a Southern Baptist and a former professor of ministry. Mr. Rainer said in an interview that it came from a poll he had commissioned, and that while he thought the methodology was reliable, the poll was 10 years old.... George Barna found that 5 percent of teenagers were Bible-believing Christians. Some criticize Mr. Barna's methodology, however, for defining "Bible-believing" so narrowly that it excludes most people who consider themselves Christians.
As this compressed version of the story shows, a reader who carefully read to the end of the piece would learn that this "fear of the loss of teenagers" is nothing more than a bit of scaremongering by some evangelical rally-organizers. However, the people who read the Times daily have a strong need to believe that religion is a negligible epiphenomenon to American life that will soon become extinct. I have already seen the Times story interpreted online in just that way and the prospect of a post-religious future applauded. The Times needs to hold on to its base readership, but is it really ethical for a newspaper to encourage a delusion among its readers in this way?
* * *
What would life be like after Roe v. Wade? Consider the Illegal abortion doctor struck off in Australia:
Suman Sood, who in August became the first doctor in NSW in 30 years to be found guilty of performing an unlawful abortion, was deregistered yesterday and may not reregister.. for 10 years.
You see: no criminal trail, no manslaughter charges; it's a disciplinary procedure that can actually be carried out because the penalties are not terribly severe. That is the kind of legislation that the pro-life movement in the United States should be working on.
Copyright © 2006 by John J. Reilly