The Long View
The Long View 2006-05-19: The Potemkin Cathedral; Immigration & Economic Growth; The Real Da Vinci Hoax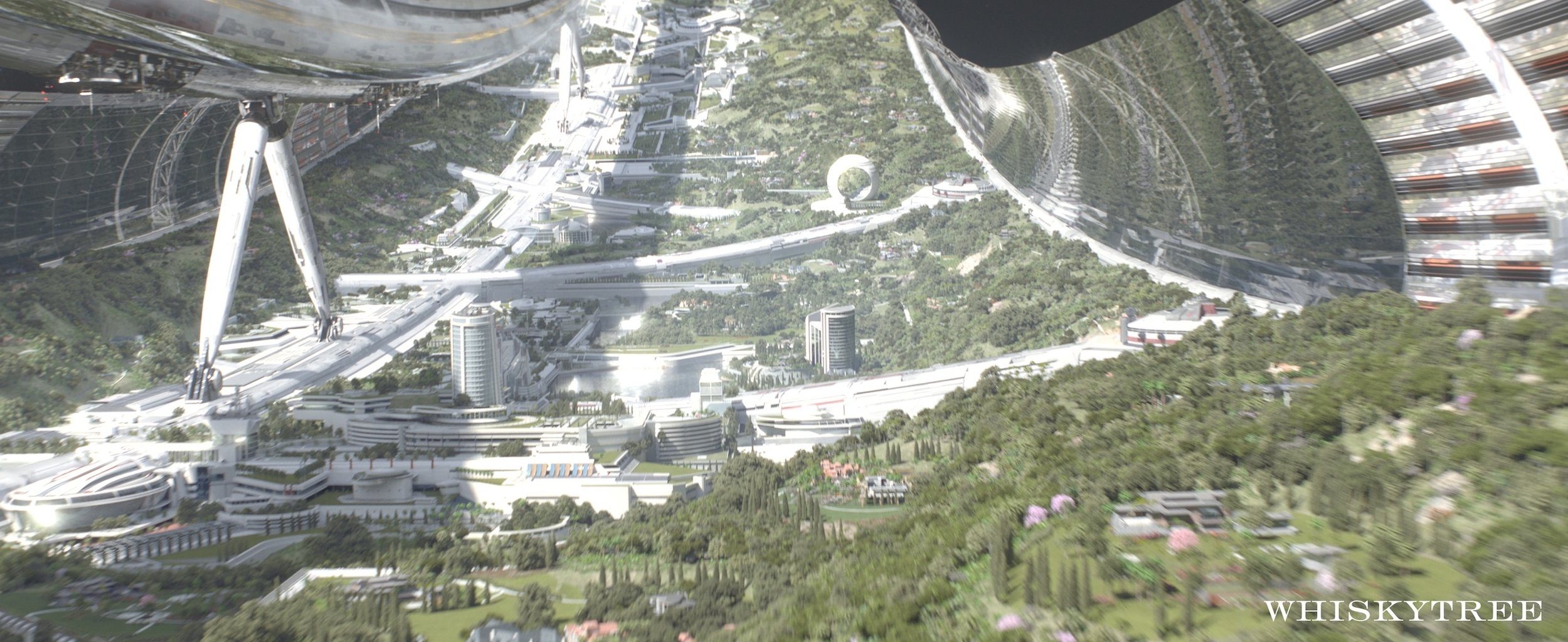 In 2006, John correctly noted that Open Borders was starting to become a defining feature of the ideology of the governing classes throughout the West. He also correctly noted that few people in the electorates at the time noticed just how extreme many politicians and career bureaucrats had become on this subject.
Twelve years later, this has all come out in the open. The consequence of this has not been moderation or compromise, but rather the elites have doubled down on the idea that immigration can't possibly be a bad thing, and in reaction, anti-immigration parties are on the rise in Europe and elsewhere.
John summed up his position thus:
shrank
That was a happy outcome, and we should do it again. The alternative is that the United States more and more resemble the Persian Gulf states, where most manual labor is done by a permanently inassimilable caste of aliens. Does anyone really want to live in a country like that?
Neill Blomkamp's Elysium came out after John Reilly had died, but I thought it a rather biting satire on the kind of world open borders would be likely to produce, wrapped in a sci-fi story that was purportedly about universal healthcare. Who find this likely, and who not, is likely to define sides in the years to come.
---
The Potemkin Cathedral; Immigration & Economic Growth; The Real Da Vinci Hoax
The Left has concluded that the key to the American electorate, or at least to enough of it to win a presidential election, is the "values voter," the sort of person whose voting decisions are influenced by religious and moral issues, and who today is almost certainly a conservative Republican. This was not always the case, however: in the afterglow of the New Deal, the Democrats were the Church & Family Party. With the presidential election of 2008 coming up, elements of the Left are trying to regain at least part of this appeal for the Democrats, as we saw this week:
A conference geared to help Democrats infuse God into their politics begins tomorrow at All Souls Unitarian Church in the District [of Columbia] with the unveiling of a "spiritual covenant with America."... The "Spiritual Activism Conference" aims to equip liberals to operate in a political arena where religion has played a more prominent role since 2000, says Rabbi Michael Lerner, founder of the Jewish magazine Tikkun and a chief conference organizer. ...an alternative to former House Speaker Newt Gingrich's successful 1994 "Contract With America"...a new term, "spiritual progressives" for the religious left. ...Part of the conference's intent is to form "spiritual caucuses" inside all political parties by the 2008 elections. These caucuses would work to bring elements of the "covenant" onto party platforms.
Lerner has a new book out, The Left Hand of God, which explains this initiative, but we should remember that he has been promoting these views for a long time, as readers can see from my review of The Politics of Meaning, which Lerner published ten years ago.
A more recent entry to this field is David Callahan of The Demos Institute, who also has a new book coming out, The Moral Center.
Spiritual progressivism is a singularly futile enterprise. There is no market for it as a spirituality, and as politics even naive people quickly see that it's just Saul Alinsky for seminarians. (How do you recognize this type of activist? They talk very fast, and they always characterize their opponents as criminals.) Some of its proponents have managed to insert themselves into the rolodexes of journalists, so we will be hearing more from them next year and especially in 2008. Nonetheless, they are the incumbents of a Potemkin Cathedral.
* * *
Delusion rather than fraud inform the views of David Brooks on the matter of immigration, as we see in his editorial in yesterday's New York Times:
You are convinced of certain fundamental things. The current immigration system is completely unsuited to a global market economy. We need to move out of the era of failed prohibition into the era of flexible control.
To use the term coined by Brooks's colleague, Thomas Friedman, this is globaloney. The same issues attend immigration today as attended it in 1900: public order, national identity, and economic growth. (The years around 1900 were arguably part of an earlier episode of globalization, but that episode ended with the First World War: the lesson is that globalization is intermittent.). The situation has changed since then only in that technology has in principle made the border more controllable.
The short answer to the open-borders argument is this: it would be better if the economy shrank than that America should be abolished. The open-borders thesis is false, of course: there was healthy economic growth in the 1920s, and in the 1950s and 1960s, when immigration was negligible. During those periods, the large immigrant influx of the late 19th and early 20th centuries settled in very comfortably. I know this because I'm related to them.
That was a happy outcome, and we should do it again. The alternative is that the United States more and more resemble the Persian Gulf states, where most manual labor is done by a permanently inassimilable caste of aliens. Does anyone really want to live in a country like that?
Here is the sort of intemperate statement that cyberspace facilitates: Every candidate for federal office should be asked if it is possible to gain physical control of the southern border. Any candidate who says "no" should not be elected. In fact, any current officeholder who says "no" to that question should resign and be replaced by someone who believes the United States is defensible.
You see that I am using more italics? That is a sure sign of growing fanaticism.
* * *
Perhaps no film will ever meet the standard set by Plan 9 from Outer Space, but The Da Vinci Code seems to be generating an inordinate number of reviews like this:
You know a movie's a dud when even its self-flagellating albino killer monk isn't any fun.
I'm sure I'll see the movie eventually. Both those who have and those who haven't seen it, but are interested in the subjects with which the film deals, might want to consider settling down for an hour and 40 minutes to see The Real Da Vinci Code, an excellent documentary hosted by Tony Robinson that aired on Wildfire Television last year. He makes the very interesting point that the mythology of the Priory of Sion on which The Code is premised was a self-conscious exercise in Surrealist performance art.
My only quibble is that Robinson's skepticism is suspended for the few minutes in which Elaine Pagels speaks. Her theories about suppressed feminist Gnosticism are not a hint that there might be something to the thesis of The Code after all; her theories were one of the key ingredients in Dan Brown's literary confection on which the film is based. The Gnostics were self-conscious surrealists too, I think. Pagels has never grasped that she is attributing fundamental significance to texts that were not supposed to be taken with a straight face.
There is another possibility, as a correspondent suggests:
Maybe it is an Opus Dei plot: infiltrate, pay the writers for a lousy script, steer the filming to France where they would love to embarrass an American production.......
If that is the case, then maybe the Opus Dei also saw to it that vast, unnecessary sums were amassed to make this film from investors who were sold more than 100% of the potential profit. The producers would keep the investment capital if the film failed; they would be ruined if it succeeded.
Now that would have been a good idea for a movie.
Copyright © 2006 by John J. Reilly