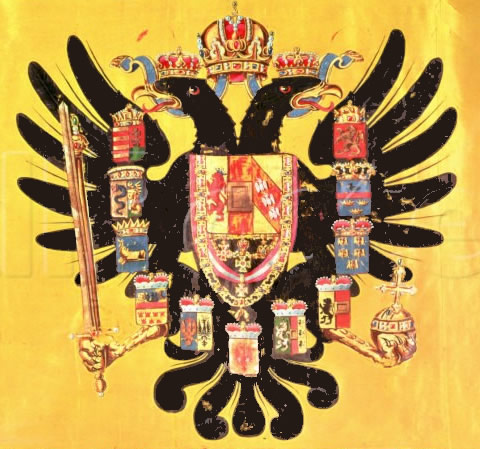 If the National Intelligence Council really predicted that the EU will collapse by 2020, their prediction is looking like a real long shot at this point. Maybe that is why DARPA funded Philip Tetlock's superforecaster project: to improve the accuracy of things like this.
To be fair, if you had told someone in 2006 that a huge wave of migrants from the Middle East, Central Asia, and Africa would move into Europe in 2016, and that terrorism would be a regular feature of life in much of Western Europe, then a collapse of the EU might have seemed more likely.
I think it demonstrates that the neoliberal consensus is a lot stronger that it might otherwise seem. A relatively tolerant, multicultural, welfare capitalist global system [with a military/secret police enforcement system] seems to be the twenty-first century answer to the same problem the Habsburgs faced in Central Europe: how do you hold together a truly diverse polity?
There are a lot of people who suspect you can't. I think you can, but it's hard. I think this is one of the things that is likely to push us towards a truly post-democratic political order: the need to keep the peace.
Steyn's book talks about how we built a global system on the assumption that populations would keep growing forever. Large scale immigration is often advocated for precisely this reason: we need people to keep the system going. The controversy over immigration has become explosive, but what is interesting to me is that the model doesn't actually seem to be right.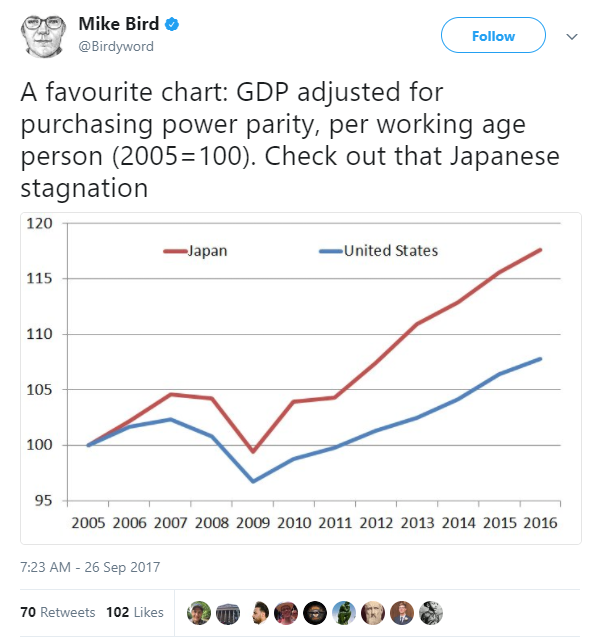 The developed economies keep doing just fine, despite aging populations. If anything, there is too little work to be done, rather than too much. The assumption that Steyn and his political opponents share, the social democratic state needs to constantly grow to survive, may not be true.
In the eleven years since John wrote this, the average number of children across the world has continued to fall everywhere except Africa. So far, sub-Saharan Africa has proven unusually resistant to the demographic transition.
---
America Alone:
The End of the World as We Know It
By Mark Steyn
Regnery Publishing, 2006
224 Pages, US$27.95, Can$34.95
ISBN 0-89526-078-6
There is no way to put Mark Steyn's view of the next few decades gently:
"The U.S. government's National Intelligence Council is predicting the EU will collapse by 2020... How bad is it going to get in Europe? As bad as it can get – as in societal collapse, fascist revivalism, and the long Eurabian night, not over the entire Continent but over significant parts of it. And those countries that manage to escape the darkness will do so only after violent convulsions of their own."
But who is this Steyn fellow, and why is he saying these terrible things? Mark Steyn is a Canadian-American journalist (he first attracted notice as an arts and music critic) who is now sometimes accounted the most influential conservative writer in the anglophone world. He owes that position in part to an epigrammatic style that bears comparison to that of the early G.K. Chesterton. America Alone is composed chiefly of Steyn's scintillating columns of recent years, but he or his editors have accomplished something very rare: a compilation of previously published occasional pieces that reads like a connected text, with a lucid argument and surprisingly little repetition. This synthesis was possible because Steyn believes he has discovered the Key to World History, or at least the mechanism that will determine the history of the 21st century. To put it briefly:
"[D]emography is an existential crisis for the developed world, because the twentieth-century social democratic state was built on a careless model that requires a constantly growing population to sustain it... The single most important fact about the early twenty-first century is the rapid aging of almost every developed nation other than the United States."
The magic number here is 2.1, as in the total fertility rate per woman that a developed society needs to maintain its population over time. The US fertility rate is at about that number, a fact explained only in part by immigration: the native-born population of Red State America is over that figure, while the figure for the Blue States is generally below it. It is almost uncanny how much of the rest of the world is below it, either slightly (like Australia) or catastrophically (like Italy and Russia and Japan; and don't forget China, doomed to get old before it can get rich). It's true even of most of Latin America. Aside from America, the only regions where it is not true are India, sub-Saharan Africa, and the Muslim world. Without the Muslim angle, this might be a story of economies freezing up and welfare states closing down as the percentage of working-age people becomes too small to support a growing majority of pensioners. The effect of Muslim immigration and conversion, however, coupled as it is with the spread of lethal jihadist ideology, is to raise the possibility that much of Europe could slip out of the Western world entirely. Steyn did not coin the term "Eurabia," but in an age when a third of the young people in France have been born to Muslim parents, it comes in handy.
Several writers have raised these points in recent years. However, despite the title of the book, Steyn does not subscribe to the conclusion of many of his colleagues that the United States should simply turn inward:
"And I'm a little unnerved at the number of readers who seem to think the rest of the world can go hang and America will endure as a lonely candle of liberty in the new Dark Ages. Think that one through: a totalitarian China, a crumbling Russia, an insane Middle East, a disease-ridden Africa, a civil-war Eurabia -- and a country that can't even enforce its borders against two relatively benign states will be able to hold the entire planet at bay? Dream on, 'realists.'"
Neither is the book a call for an American Empire. Steyn tends to support the Bush Administration's military policy, and particularly the invasion of Iraq; he faults the execution of that campaign principally for being too culturally sensitive. However, he tells us:
"This book isn't an argument for more war, more bombing, or more killing, but for more will."
Steyn's Key to History unlocks not just a proper reading of foreign affairs, but reveals to him the need for a cultural and political transformation of the West. That part of the book, and particularly his prescriptions for the future, is the most problematical. As for the doomsday material, one might observe that it is in the nature of present trends not to continue. If the ones Steyn highlights do continue, however, his grim forecasts will be right.
Steyn has a short explanation for demographic catastrophe:
"In demographic terms, the salient feature of much of the 'progressive agenda' – abortion, gay marriage, endlessly deferred adulthood – is that, whatever the charms of any individual item, cumulatively it's a literal dead end...In fact, [opposition to Islamization] ought to be the Left's issue. I'm a social conservative. When the mullahs take over, I'll grow my beard a little fuller, get a couple of extra wives, and keep my head down. It's the feminists and the gays who'll have a tougher time."
The welfare state in Europe and Canada allows the political system to focus on satisfying "secondary impulses," such as long, legally mandated vacations and government-provided daycare, or for that matter, responsibility for the care of the elderly:
"But once you decide you can do without grandparents, it's not such a stretch to decide you can do without grandchildren...[T]he torpor of the West derives in part from the annexation by the government of most of the core functions of adulthood."
As he never ceases to remind us, there is an important distinction between Europe and America in these matters, or at least between Europe and Red State America. The distinction, he argues, results from a recent historical accident:
"It dates all the way back to, oh, the 1970s. It's a product of the U.S. military presence, a security guarantee that liberated European budgets...[however]...[u]nchecked, government social programs are a security threat because they weaken the ultimate line of defense: the free-born citizen whose responsibilities are not subcontracted to the government."
To quote an authority that Steyn does not, Immanuel Kant once said, "Even a nation of demons could maintain a liberal republic, provided they had understanding." If we are to believe Steyn, however, Kant was wrong about the degree to which rights and procedures could replace morality and religion:
"[B]y relieving the individual of the need to have 'private virtues,' you'll ensure that they wither away to the edges of society...Almost by definition, secularism cannot be a future: it's a present-tense culture that over time disconnects a society from cross-generational purpose."
One may note that this would apply only to a form of secularism with no metahistorical script for the future. Thus, a Marxist society (if it did not starve), or a eugenicist society, or a society intent on colonizing the solar system, might make the connection between generations. A society that was just a gas of atomic individuals today and looked forward to being just a gas of atomic individuals tomorrow, in contrast, would have neither a past nor a future.
Steyn is not just another talkshow ranter (though he does that, too) because he sometimes slows down enough to express skepticism about his own arguments. He asks: does the loss of religion explain the morbid state of advanced and even moderately developed countries? That might seem to be an explanation within the United States, with its relatively sterile and aging New England versus, say, the burgeoning Mormon population of Utah. But what about Europe, where the relatively religious South has even lower fertility rates than the godless North? One might also adduce East Asia: the populations of neither Japan nor South Korea are sustainable, but South Korea is a hotbed of evangelism of all sorts, while Japan is as secular as Sweden.
If God is not the answer, could Mammon be? America as a whole has a somewhat more free-market economy than most of Europe, but the most laissez faire economies in the world are in East Asia, and they have birth rates lower than most Western countries. We should also note, as Steyn does not, that the prolific Red State populations receive more in federal subsidies than they pay in taxes: those family values are paid for with farm subsidies and often rather paternalistic business practices. Steyn also points out that the major anglophone countries all have birthrates either at or near replacement level, but he does not suggest that the birth dearth could be solved with Berlitz courses.
* * *
Among the most delightful features of America Alone is the blurb on the front bookjacket from Prince Turki al-Faisal, former Saudi Ambassador to the United States: "The arrogance of Mark Steyn knows no bounds." The prince perhaps has reason to be miffed. Though he does not say so in this book, Steyn elsewhere likens the increasingly successful Islamization of Europe to an opportunistic infection, made possible by the simultaneous collapses in cultural confidence and fertility. He has many worthwhile things to say in this regard; he is certainly right to underline the fantastic level of mendacity among the people in the West who speak for and about Islam. In academia and on the evening news, "sophistication seems mostly to be a form of obfuscation by experts." As for official appreciation of the threat, "government ministers in Western nations spend most of their time taking advice on the jihad from men who agree with its aims." The problem is not simply a matter of immigrants with new ideas changing the nature of their new homes: "Islam," not just in the West but around the world, increasingly means a brutal and hegemonic version of Wahhabism. The evangelization of this doctrine is lavishly subsidized by the government of Saudi Arabia, support that ranges from establishing local Islamic schools in Canadian and American cities to building mosques the size of cathedrals in Europe.
Steyn recounts many anecdotes of allegedly moderate Muslims in Western countries who turned out to be recruiting or fundraising for terrorist groups, but far more disturbing are the proliferating incidents of homegrown jihadis turning against the lands of their birth:
"If you're a teenager in most European cities these days, you've a choice between two competing identities – a robust confident Islamic identity or a tentative post-nationalist cringingly apologetic European identity. It would be a mistake to assume the former is attractive only to Arabs and North Africans."
As Steyn notes, multiculturalism was instituted not to acquaint Westerners with other cultures, but to criticize the West. One effect of multiculturalism has been to absolve students of learning any hard information about other cultures. The result is that the West has disarmed itself in the most critical arena:
"We have no strategy for dealing with an ideology...groups with terrorist ties are still able to insert their recruiters into American military bases, prisons, and pretty much anywhere else they get a yen to go."
Western attempts to influence the development of Islam are usually exercises in self-delusion, beginning with the preferred choice of interlocutors: "'moderate Muslims' would seem to be more accurately described as apostate or ex-Muslims." As for more long-range efforts: "We – the befuddled infidels – talk airily about 'reforming' Islam. But what if the reform has already taken place and jihadism is it?"
The Islamization of Europe is no longer hypothetical, in part because of the determination of the anti-discrimination police to enforce accommodation to what often extremist and unrepresentative Islamic groups claim to be Muslim sensibilities: "there's very little difference between living under Exquisitely Refined Multicultural Sensitivity and sharia." Worse than that is the casual use of violence and threats against European writers and artists, or even against ordinary persons: non-Muslim women in heavily Muslim neighborhoods increasingly go about dressed in something approaching Muslim fashion in order to avoid insult.
* * *
How, you may ask, can the United States prevent much of the world from turning to theocratic rubble, like Taliban Afghanistan? Steyn suggests these priorities:
"In World War Two, the sands of Iwo Jima and Okinawa where the main event, and rounding up the enemy sympathizers in Michigan was the sideshow. One can argue that this time around the priorities are reversed -- that bombing Baby Assad out of the presidential palace in Damascus is a more marginal battlefield then turning back the tide of Islamicist support in Europe and elsewhere. America and a select few other countries have demonstrated they can just about summon the will to win on the battlefield. On the cultural front, where this war in the end will be won, there's little evidence of any kind of will."
Nonetheless, he says that the military dimension cannot be neglected: the worst thing to do is nothing. Even if the war is chiefly ideological, there are state sponsors of the hostile ideology, and something has to be done about them, either militarily or through devastating economic sanctions:
"[E]very year we remain committed to 'stability' increases the Islamists' principal advantage: it strengthens the religion – the vehicle for their political project – and multiplies the raw material...So another decade or two of 'stability and the world will be well on its way to a new Dark Ages...But the central fact of a new Dark Ages is this: it would not be a world in which the American superpower is succeeded by other powers but a world with no dominant powers at all."
It is true that the United States is held in light esteem in many of the world's better magazines, and even does increasingly badly in public opinion polls taken in countries whose leadership is not necessarily committed to America's destruction. Steyn attributes the darkening of the American image to elites like those in France, who are obviously weighing their chances in a semi-Muslim future, or to other well-meaning people who live in a fantasy world, where the most pressing issue facing civilization is rising sea levels. One might also suggest that, if the post-World War II international system is decomposing, America has become the screen onto which are projected the anxieties and ambitions aroused by the decomposition. To the jihadis, America is the godless Great Satan; to much of Europe, and even to many Blue State Americans, America is a theocratic Jesusland. As Steyn puts it: "America is George Orwell's Room 101: whatever your bugbear you will find it therein; whatever you're against, America is the prime example thereof."
In reality, though, what much of the developed world is going to experience in the next 10 or 20 years is re-primitivization: "The Serbs figured that out – as other Continentals will in the years ahead: if you can't outbreed the enemy, cull 'em." Where states fail, private parties can be expected to step in:
"If a dirty bomb with unclear fingerprints goes off in London or Delhi, it's not necessary to wait for the government to respond. As in Ulster, there'll always be groups who think the state power is too [timid] to hit back. So unlisted numbers will be dialed hither and yon, arrangements will be made, and bombs will go off in Islamabad and Riyadh and Cairo. There will be plenty of non-state actors on the non-Islamic side. In the end the victims of the Islamist contagion will include many, many Muslims."
To combat the Islamic dimension of the threat (and remember, it's chiefly a demographic problem) Steyn has suggestions of various degrees of plausibility, of which the most intriguing is the proposal to create a civil corps to engage Islamism ideologically:
"If America won't export its values -- self-reliance, decentralization -- others will export theirs. In the eighties, Paul Kennedy warned the United States of 'imperial overstretch.' But the danger right now is of imperial understretch -- of a hyperpower reluctant to sell its indisputably successful inheritance to the rest of the world."
Steyn wants to scrap the post-World War II international institutions and replace them with an alliance of capable and committed democratic powers. He says the Saudis have to be stopped from financing their worldwide religious underground. He would also like to develop technology that would end the dependence of the developed world on Middle Eastern oil: a fine notion, and none the worse for having been suggested a hundred times before.
This brings us to the cultural front. It is a good bet that Steyn is prophetic when he tells us, "By 2015, almost every viable political party in the West will be natalist." And what should the platforms of these Mewling Infant Parties contain? "We need to find a way to restore advantage to parenthood in the context of modern society. Shrink the state. If you got four dependents, your taxable income is to be divided by five. We must end deferred adulthood." And how do we do that? "We need to redirect the system to telescope education into a much shorter period." The upshot, apparently, is that educated people should be educated faster so that they will normally have children while they're in their twenties. We hear not one word that these proposals, though perhaps inevitable, will mean that the life courses of men and women will diverge again.
Steyn has given us a fiery polemical introduction to the crisis of the first quarter of the 21st century. However, we recognize the limitations of his analysis when we come to statements like, "The free world's citizenry could use more non-state actors." Consider his view of the moral of September 11, 2001:
"What worked that day was municipal government, small government, core government -- fireman the NYPD cops, rescue workers. What flopped -- big-time, as the vice president would say -- was the federal government, the FBI, CIA, INS, FAA, and all the other hotshot, money-no-object, fancypants acronyms."
Stirring words, but counterfactual. In reality, on 911 the World Trade Center's security service killed many of the people in the buildings by urging them to return to their offices after the attack was underway. The radios of the various emergency services were not able to communicate with each other. The firemen died needlessly by charging into burning buildings that local fire experts had declared indestructible. The epitome of effective local government, Mayor Rudolph Giuliani, was almost killed because the city's emergency command center was located in the World Trade Center complex, despite the fact everyone knew the complex was the most likely target for a terrorist attack. The federal government did not cover itself with glory on that day, either, but at least the feds managed to close down and then restart the airline system within the space of a few hours.
Toward the end of the book, Steyn remarks, "You can't win a war of civilizational confidence with a population of nanny-state junkies." But the fact is that is how the world wars were fought and won, either by states that had extensive social-welfare systems, or that promised such systems to their citizens as part of the reward of victory.
It is certainly the case that the nanny state of the postwar developed world, with its therapeutic model of governance and its subsidy of victimhood, is a degenerate and unsustainable type of polity. But consider what it degenerated from: the war-and-welfare state of the era of the Great Wars that lasted from 1861 to 1945. The same powers of economic and political mobilization that allowed those wars to be fought permitted, indeed required, the domestic mobilization of education and public health and industry that allowed the governments of that explosive era to function effectively as military actors. Those governments commanded the most effective states that ever existed, and the mark of the societies they governed was precisely that, during the long lifetime from Lincoln to Churchill, the fortunes of the state and of the citizen increasingly merged. For a while, for just a few years, the mechanisms were in place to drive society in the service of urgent public policy.
The nanny state is a declension from that height of state fitness, and so is the libertarian state. In the face of an existential crisis, Churchill promised his people that their lives would be drenched in blood, sweat, and tears until victory was won. In the face of a comparable threat to civilization, George Bush made some fine public restatements of America's now traditional Wilsonianism, but otherwise told the American people to support the tourist industry by visiting America's beauty spots; while cutting taxes in the middle of two major wars, he reminded the taxpayers, "It's your money." Even if you accept the president's economic model, surely it is obvious that such policies have no power to mobilize. The philosophy behind them diverts attention from the core functions of government, as the embrace of an open-borders policy by the Republican establishment illustrates. The small government that Steyn urges might be able to win conventional wars, but it would be unable otherwise to affect events. Increasingly, its irrelevance to the real problems, many of which Steyn has identified, would lose it the loyalty of its citizens. Thus we see that the libertarian state undermines patriotism quite as effectively as the European Union. They are parallel manifestations of the same phenomenon.
Many of Steyn's specific proposals have merit, but they need a context he has not yet attempted to articulate. It might be possible for America to revive the Churchillian State within its own borders; maybe Japan could do that too, but neither Europe as a whole nor the nations within it could manage such a thing. In any case, it is not at all clear that even America should try. The work of regeneration needed to fight off the Muslim infection and save the threatened societies of the world from suicide cannot dispense with patriotism. However, it must be patriotism strengthened by some wider loyalty impervious to the subversions to which the Churchillian State proved subject.
Copyright © 2006 by John J. Reilly
  AMERICA ALONE: The End of the World As We Know It By Mark Steyn