Made in the Shade Beer Festival
June 20, 2009
The beers are listed in order of tasting, so the effect of increasing concentrations of EtOH can be taken into account.
1. Coopers Lager, ABV 5.0%, pretty light, would be good if it were really hot, but rather tasteless.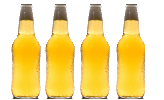 2. Barrio Razzbery. The Magistra Scientia really liked this one, it was good, not too sweet.


3. Baltika Dark Lager, ABV 5.6%, a very nice dark lager, flavorful without being too heavy.



4. Moosehead Lager, more of a palate cleanser than anything else. I really do just buy this when it's on sale.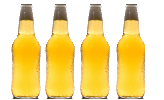 5. Sam Adams Hardcore cider, light and refreshing, with just a little bit of tartness.



6. Spaten Optimator, a double bock, ABV 7.2%. One of my favorites.



7. Warsteiner, German pilsener, ABV 4.8%. Another favorite of mine.



8. Old World Brewery Nitro Blonde. Truly nasty, I don't know whether I had a bad batch or it was just really terrible. I actually poured this on the ground.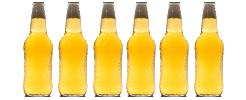 9. Carlsberg, Danish pale lager, 5% ABV.


I stopped giving ratings at this point, anything that wasn't awful tended to taste pretty good.

10. Golden Pheasant, Slovak pilsener. Crisp is the best word to describe it.

11. Barrio Copperhead

12. Sam Adams Hardcore

13. Sam Adams Blackberry Wheat

14. Gordon Biersch Marzen

15. Big Sky Summer Honey

16. Pyramid Thunderhead

17. Fox Barrel Pear Cider

18. Breckenridge Vanilla Porter, very strong vanilla flavor.

19. Oak Creek King Crimson

20. Fox Barrel Apple Cider