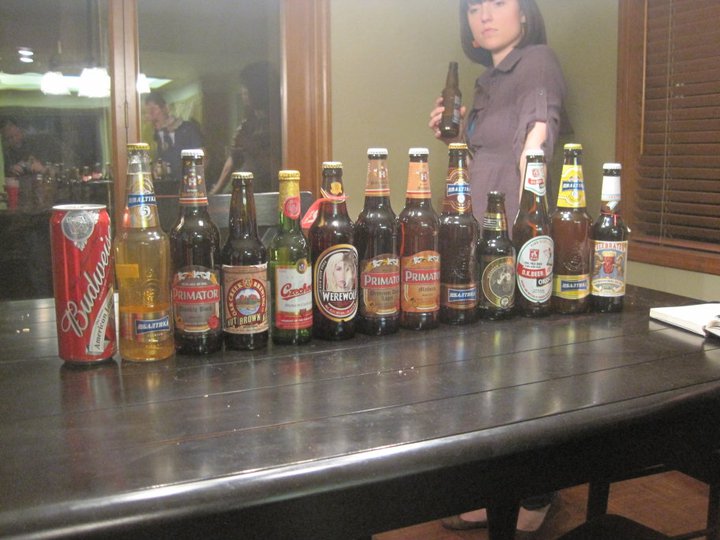 Beers of Central and Eastern Europe
Baltika #5 Gold
5.3% ABV, Euro Pale Lager. [Type 12] A pretty good lager, tastes a lot like a Heineken. 3 beers. I'd drink it.
Stout homebrew
More delicious homebrew that we have had in months past.
Czechvar
5.0% ABV, Czech pilsner [Type 37] An alias for Budweiser Budvar. The other Budweiser. Similar to Pilsner Urquell, a light refreshing beer. 2 beers.
Werewolf Lithuanian
A Belgian dark ale [Type 29]. 8.2% ABV. Sweet and sour. Pretty heavy. Not the best Belgian I've had. 4 beers.
Primator Dark Lager
Munich Dunkel. [Type 39] 4.8% ABV. Has that distinctive German maltiness.
Primator Maibock
A Hellesbock, or light bock beer. [Type 13] 7.5% ABV. Strong, malty, some fruitiness. A fun beer.
Baltika #4 Dark
The Baltika version of a European dark lager. [Type 39] 5.6% ABV. Sweeter than the Primator.
Okocim Full Pale
A Polish pale lager [Type 12] 5.6% ABV. This is a pretty good lager. Tasty and creamy, a pleasant beery taste. 2 beers.
Baltika #8 Wheat
Type 14. 5.0% ABV
Primator Double Bock
Amazingly strong doppelbock. [Type 26] 10.5% ABV. Pretty thick and sweet, a bit like cough syrup.
Celebrator Ayinger
Another doppelbock. 6.7% ABV. Everyone remembers this as the goat beer.
Old Rasputin
A Russian Imperial Stout [Type 50] 9.0% ABV. More bitter and stronger than a mere Imperial Stout.