Reviews
Lumberyard Brewing Company Beer and Whisky Pairings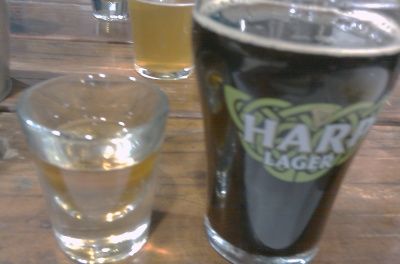 On February 12th, the Magistra, my friend Owen, and I attended a beer and whisky pairing at Lumberyard Brewing Company. Thanks to Gene Almquist and Gary Blazevich with Lumberyard, and Tom Turner of Diageo for hosting the event. All of the beers are brewed by Lumberyard, and the whiskeys provided by Diageo.
I had never really thought of pairing beer and whiskey in this manner. Usually you drop and chug. This was an entirely different experience, and one I would recommend to anyone. Pairing beer and whiskey together can bring out flavors you never would have expected from either. If Lumberyard offers this event again, I can recommend it.
Bulleit and Red Ale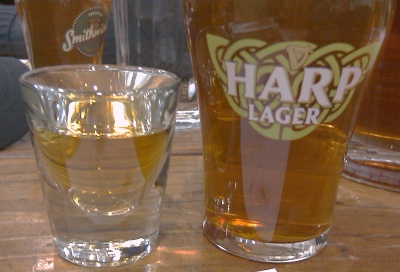 Bullit and Red Ale
An early favorite, this pairing brings out sweetness in the Bulleit. Bulleit is a high rye content bourbon, although not a rye whiskey. The two made for easy drinking.
Crown Black and Scotch Ale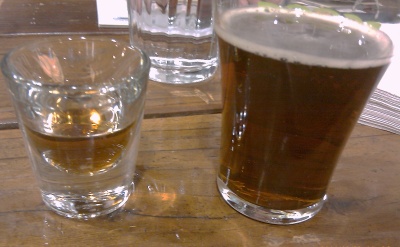 Crown Black and Scotch Ale
Crown Royal Black was paired with Scotch Ale. Since I'm not a big fan of Jack, I am not a big fan of Crown Black which is intended to taste similar. My least favorite pairing of the night, but others liked this one. I do have a great love for Lumberyard Scotch Ale at least.
Bushmills 10 year and IPA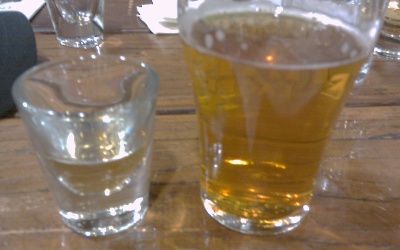 Bushmill's 10 Year and IPA
The most surprisingly good combination. The floral character of the hops in the IPA were nicely blended into the smooth Bushmills 10 year. The Magistra's favorite, and she doesn't like either IPA or whiskey.
Johnnie Walker Black and Imperial Red
Johnnie Walker Black and Imperial Red
Johnnie Walker Black is an excellent blend. I had never tried it before, but I assuredly will after this. The Imperial Red brought out a pleasing medicinal quality in the Johnnie Walker Black.
Oban 14 and Hefe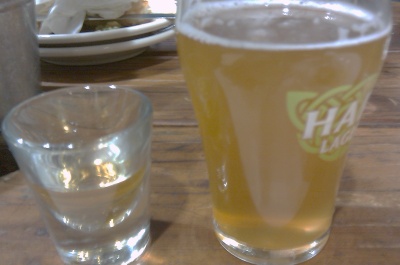 Oban 14 and Hefeweizen
The hardest pair of the evening. It was difficult to pair a Hefe with anything that would not overpower it. Oban is a recent favorite of mine (thanks Marc), and it lets the banana and clove through when you try them together.
Laguvulin 16 and Porter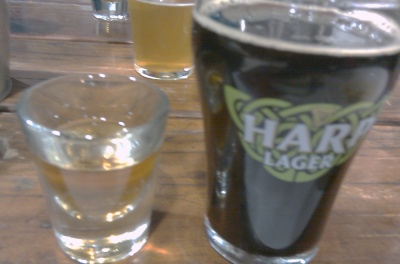 Lagavulin 16 and Porter
Massively peaty, the Lagavulin 16 blended well with the smoky porter. This of course had to be the last tasting, since both of these were the strongest flavors of the evening.
My favorites were Bulleit and Red Ale, and Bushmills 10 year and IPA. However, I certainly would not turn down any of these combinations.  A great event, with color commentary by Tom and a brewery tour afterwards by Gary for Owen and I. Thanks for hosting!