Beer Club
Hefeweizen
Since it is moving into the summer, have have moved on to the lighter beers. June was Hefeweizen month. Wheat beers are the first column on the beerodic table, running from weissbier through weizenbock. The major differences are filtered or unfiltered, and the kind of yeast used. German wheat yeast tends towards a banana and clove flavor, while other wheat yeasts are more citrusy.

June 2010 Lineup
Erdinger dunkel

Unusually, the darkest beer was the first. However, this was the only dunkelweizen of the evening, so we wanted to make sure it didn't get lost. 5.6% ABV, Type 27, a traditional dunkel from Bavaria, it is creamier and maltier than other kinds of wheat beer. Very little hops, which is perfect here. Nice dark brown color, like chocolate. I am very partial to the dunkelweizen style, so this is my favorite of the evening.
Ayinger ur-weisse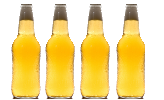 The Ayinger Ur-weisse [or original white] is technically a dunkelweizen as well, but it is a very different beer than the Erdinger. The beer is much lighter than the Erdinger, more of an amber or tea color. The smell is spicier, and the malts not so predominant. Unfiltered of course. 5.8% ABV, Type 27. Unlike any other wheat beers I've had, dunkel or regular. I found the spice a little strong, and the malts a little weak, so I didn't like this one near as much as the Erdinger.
Odell Brewery Easy street

An American craft wheat, Easy Street is an unfiltered American style wheat beer. 4.6% ABV, Type 7. American wheats are usually filtered, but the real distinction is the kind of yeast used. This beer has a citrusy smell, and a cloudy straw color. The taste is slightly sweet, without much malt or hops. This is a really good example of a wheat beer, good for relaxing on a hot day. I will definitely be looking for this beer again.
Samuel Adams Blackberry witbier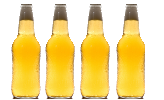 The Blackberry Witbier is a Boston Brewing Company offering, a fruit flavored white beer. 5.5% ABV, Type 4.  The flavor of blackberry is quite strong, but the beer is not quite as sweet as a lambic, which is nice. An unusual beer, but pretty well executed for what it is. I might buy this one occasionally just for something different.
Leinenkugel Sunset wheat

Sunset Wheat is the standard Leinenkugel's wheat beer. 4.9% ABV, Type 4. Sunset wheat is known for its unusual aftertaste, what I would describe as artificial blueberries. I'm not sure how they do it, but there it is. Sunset Wheat is widely available on tap, so no surprises here. Sunset wheat is a cloudy orange with a fluffy white head.
Ballast Point Wahoo

4.0% ABV, Type 4. A lighter wheat beer, a little less alcohol and body than some. Depending on your mood [or state of fullness], this could be a good wheat beer. Light yellow color, with a matching thinness of body. Has a bit of the smell of a field to it.
Flying Dog in Heat Wheat
4.7% ABV, Type 14. Made in the German style, spicer, with the banana esters that characterize the German style.
Franziskaner Hefeweizen
5.0% ABV, Type 14.
Paulaner Hefeweizen
5.5% ABV, Type 14.
Pyramid Brewing Haywire
5.2% ABV, Type 7.
Widmer Hefeweizen
4.9% ABV, Type 7.
Fat Tire Sunshine Wheat
4.8% ABV, Type 7.