Reviews
Iron Hill Brewery Dunkel Weizen

Iron Hill Dunkel Weizen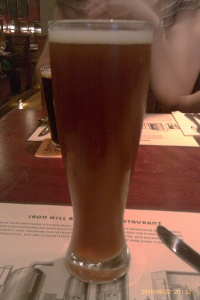 Iron Hill Dunkel Weizen
Dunkel Weizen [Type 27] 6.3% ABV
Iron Hill Brewery is a small brewpub chain in and around Newark Delaware. I was a little surprised at how small their brewing equipment was, but if you just brew beer for one restaurant at one location, I suppose you don't need that much capacity. Each location has different beers available. The restaurant had some nice wood paneling, and a varied menu. I had an excellent hummus wrap that was far bigger than I could eat.
The dunkel weizen came out as I would expect, in a pilsner glass, dark and murky. It was a little heavier and maltier than your standard hefeweizen, with pronounced fruitiness. Low hops.
Rating

This is a good, solid dark wheat beer. I would come back here gladly. I sampled several other beers, including a golden ale, a standard hefeweizen, and a smoked porter. All were good. Iron Hill does a good job. I didn't try anything crazy, but they nailed the standard kinds of beer. That is a very good thing.