Today was the first full day in Vienna. Ben had to set up for the conference, so I was on my own.  I went to the Opera and Nachsmart district.  I went shopping down Mariahilfer Strasse.  I was trying to get all the souvenir shopping out of the way, since Ben hates that, but the shops were mostly chains that we have in the States. It was a bit disappointing. There was a really beautiful church though.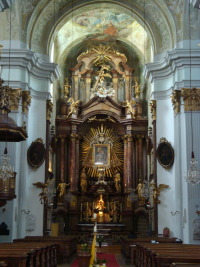 The high altar in the Mariahilfer Kirche
I also went to the Nachsmart, which is an open air market. They had some tourist junk stalls, which was all I saw at first so I skipped it. I went through it on the way back to the train station and I'm glad I did. It was full of bakers, butchers, fruit stalls, cheese stalls, and pretty much anything you would want to eat.
Near the Nachsmart is the Secession building. The building is a very different style of architecture than most of Vienna, but it was still very nice. I didn't go inside because it's a modern art exhibit you have to pay for, and I don't really care for Modern art.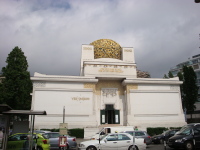 Secession Building
I toured the Opera house.  It was beautiful, but I thought it would be bigger.  I got to see them setting up the stage for that night's performance of Carmen. We unfortunately won't have time to see an Opera, but it was neat just seeing the building.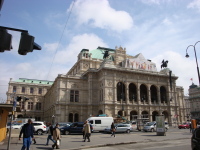 The Opera house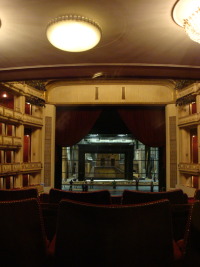 The stage
I also went to a park near our hotel just to wander around, and I ended up having a beer at a real life Beer Garden.  It was everything I hoped for and more!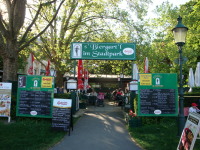 Best invention ever!
That night there was a dinner for the conference that I went to with Ben.  We saw an old friend from Ireland that we hadn't seen in ages, and met a British doctor and his protégé that were very funny.  The highlight of the evening, besides the free drinks and funny doctors, was that they had this giant mound of ice cream that they would crave pieces off of for you. I was in heaven!  I was also butt-bumped by a VIP from Gore (who shall remain nameless) who was trying to get to the food.
All in all, a good day!