Technically, we traveled home today, so we weren't really in Vienna.  Our flight left early, but there was a train just outside our hotel that took us directly to the airport.  Our flight to London was fine, but then we had a 6-hour layover in Heathrow.  I have a deep hatred for that airport.  We were in the new British Airways terminal, which was very nice inside, but to get there you have walk through empty corridors to a bus.  Once in the bus, you drive through an airport that looks like at any moment they could pack the whole thing up.  The layout of Heathrow really makes no sense.  The upside was there was plenty of time for duty free shopping.  Ben has never had so much fun shopping since we got him two bottle of very fine whiskey for significantly less than you would ever be able to get them here.  We also ate at a ramen place in the airport.  It is apparently this new, trendy chain in London called Wagamama.  It was very good. Hopefully there will be one in Phoenix soon!  The flight home was longer than normal since we had to go around the ash.  We were disappointed with the service on our flights this trip. I think between our hatred of Heathrow and the lack luster service we will probably fly a different airline if we go to Europe again.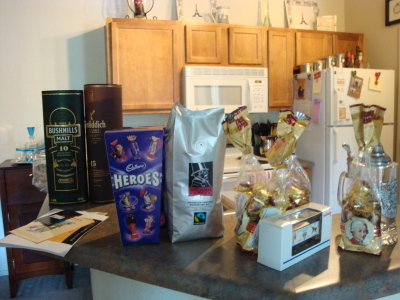 A collection of the goodies we brought home
I know it took me forever to post all these...Sorry about that. Click here to read them all!