We went to Hohr Markt today because I wanted to see the clock there.  The square itself was plain, but the clock was very neat.  The Anker clock had different figures that move across it for each hour.  At noon you can see all the figures, but we never seemed able to make it there by noon.  We had lunch at a random little pizza shop near the clock.  The pizzas were decent, large, and cheap, so it was a winning combination.  It was also a little of the beaten path, so it wasn't busy.  The market also has Roman ruins underground that you can tour, but we happened to go on a day they were closed.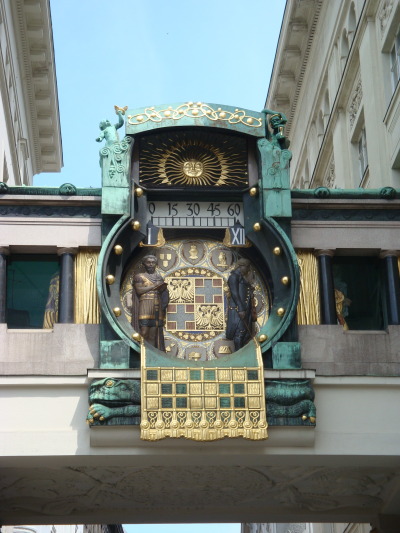 The Anker clock. You can see two figures because it's almost 1 o'clock.
Today was a day for churches. Churches, especially in Vienna, are a great way to see art without paying ridiculous amounts to get in a museum.  The churches are generally free unless they are one of the big tourist draws, but I still always donated a little money because I'm sure the upkeep on those beautiful old building is very high.  We saw the outside of the Ruprechtskirche, which is the oldest church in the city. It was closed, so we couldn't go in.  While wandering, we found the Am Hof, which is the largest enclosed square in the city.  It was cool, but not the sort of thing you can really take a picture of. We also saw Maria am Gestade, which is one of the oldest churches, and is very gothic.  It had the crazy statues all along the sides of different saints.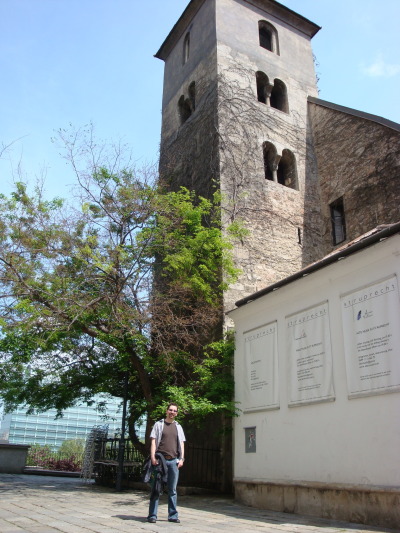 Ben in front of the Ruprechtskirche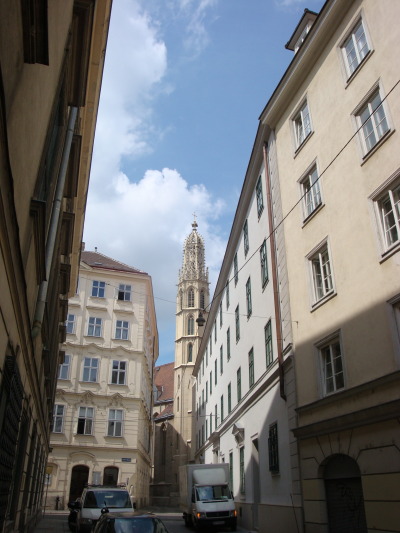 One of the towers of Maria am Gestade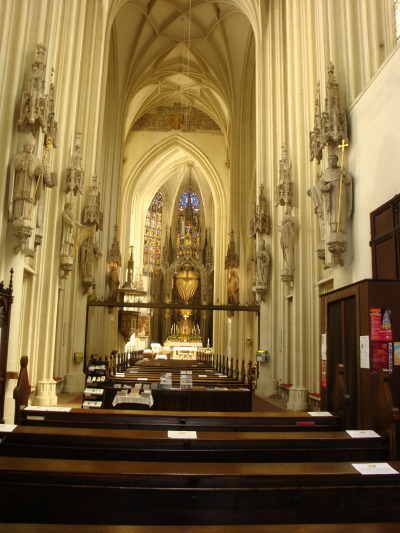 Interior of Maria am Gestade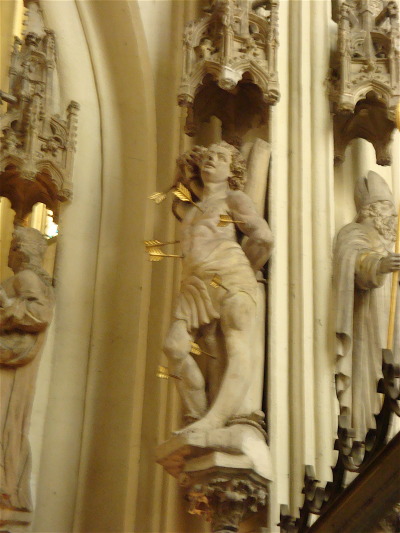 This was my favorite statue in Maria am Gestade. I don't know who it is.
After the conference we changed hotels because the Company was no longer paying for it, but my dad travels all the time (Think 'Up in the Air' except he's not looking for love) so he was able to use his Marriot points for our hotel.  We stayed at the Imperial Riding School, which is a Renaissance hotel, or something like that.  All I know is, it was amazing.  Because my dad is a member of the ridiculous travelers club, we could go in the Imperial Club at the hotel.  It had free beer, wine and snacks at night and breakfast in the morning.  Basically, it was totally sweet! Thanks dad!!!  Anyway, the hotel had this guide of things that might be interesting to their clients, and one was a coffee roastery called Alt Wien Kaffee.  It was amazing!  They roast their beans there, and in true SWPL fashion use all organic, fair trade, etc, etc, beans.   It was the best espresso we had in Vienna, and we had good espresso pretty much everywhere.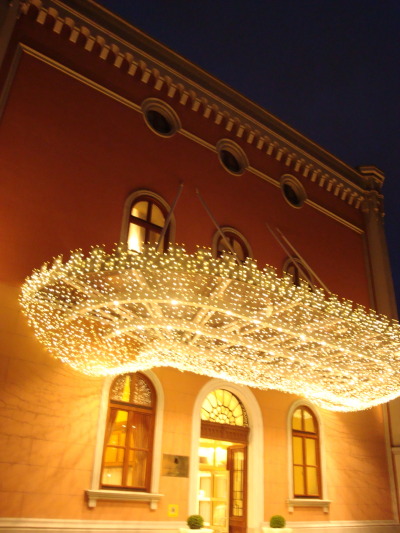 The front of our hotel at night.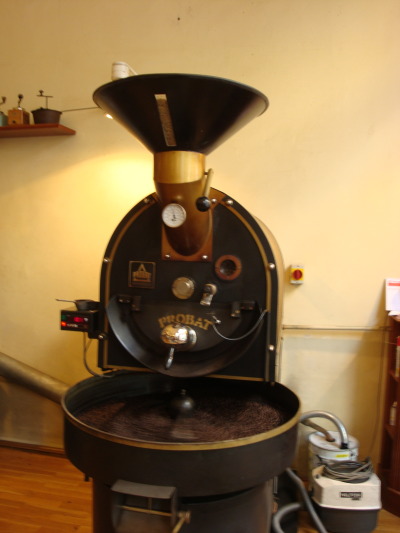 The roaster for the coffee beans. It smelled so good!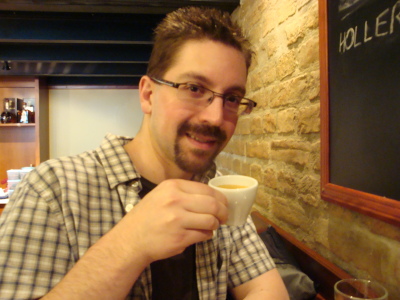 Ben enjoying his espresso.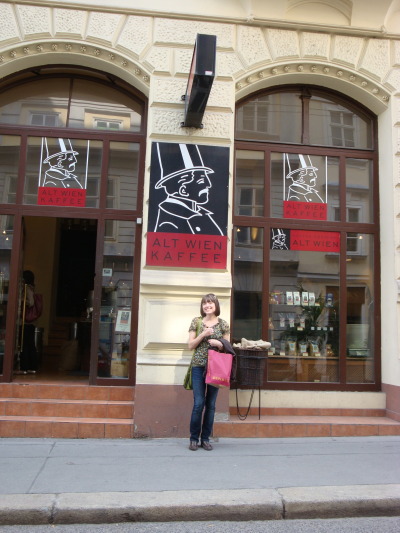 Me in front of the shop.
We also went back to the Nachsmarkt.  Ben hadn't seen it and there was a shop near by that I wanted to stop in to get my brother a college graduation present (we got him Apple schnapps if you're curious).  The coffee roastery was also nearby.  Ben liked the market, but not nearly as much as I did.  I could have spent all day there.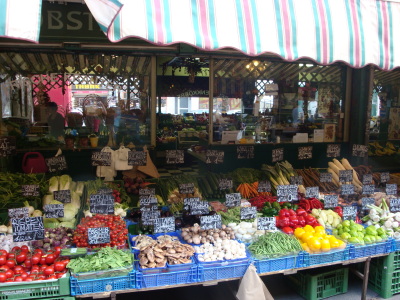 One of the fruit and vegetable stalls at the Nachsmarkt. I loved the way everything was displayed.
We were rained on while on our way to get a treat.  It wasn't just a light rain; it was a torrential downpour.  Everyone was hiding in the U-Bahn station to wait it out. It was weird to see the square around Stephansdom completely empty.  We went to a café called Aida and got an espresso and a Sachertorte, which is a Viennese specialty. It's a kind of chocolate cake, which was good, but not amazing.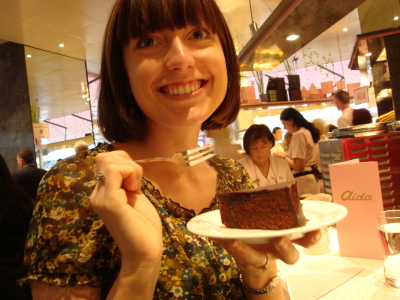 Me and my cake!
We also went back to the Belvedere Palaces.  Ben wanted to see the gardens, which was fine with me.  I enjoyed it more this time because I knew where I was going.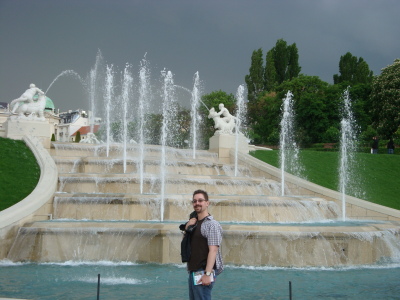 Ben in front of the fountain that is between the two palaces.
For dinner, we decided to take a chance and choose a restaurant that looked a little more down home than the other places we've been eating.  It was definitely a place that the locals went to after work.  The food was decent.  Ben was happy because he got meat wrapped in meat.  The best part of dinner was the very nice lady we met.  Her name was Inga, and we got the impression she was there at least once a week.  She asked if we spoke German, which we don't, but that didn't bother her at all.  She talked to us the whole dinner in German.  We learned that her Husband had been in the Philharmonic orchestra, but had passed away.  She had been a ballet dancer, and they didn't have any kids.  She was hilarious.
Our new friend, Inga. I was sad when I discovered the picture was blurry. Oh well.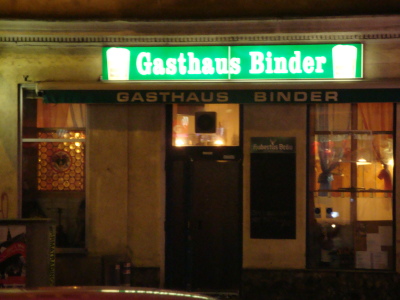 The food was good, but the company was better!