Scrimshaw Pilsner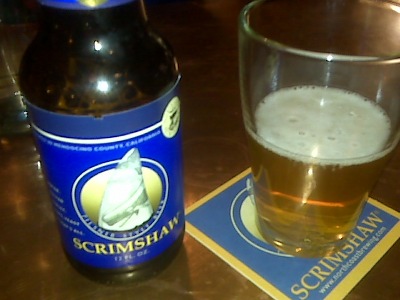 Scrimshaw Pilsner at Diablo BurgerEuropean Style Pilsner
4.4% ABV

Pilsners are noted for their lightness, but what I found surprising about this beer is its sweetness. Not sugary like a frambois, but rather crisp and light. The hops were present, but their bitterness was understated. Served out of a bottle, this beer is thin with a small head. Pronounced golden color.
Rating

I had this beer with The Cheech from Diablo Burger. The spicyness of the burger and the lightness of the pilsner went well together. I found the beer satisfying and tasty, I would readily recommend it to anyone, especially those who don't like a "beery" or "hoppy" taste.