Saturday, October 17th served as Oktoberfest this year. The Flagstaff Oktoberfest was unfortunately canceled due to a lack of sponsors, so we had to make do. No yodeling or alpenhorns this year. It was warmer however, last year it rained all day. I did make good use of my mug from last year however!
There was bratwurst, sauerkraut, and lots and lots of beer. I didn't buy any beers I didn't like, so the reviews will be brief. There was a dark beer theme for the evening.
1. Paulaner Oktoberfest
Märzen 5.8% ABV
Possibly the lightest colored beer of the evening,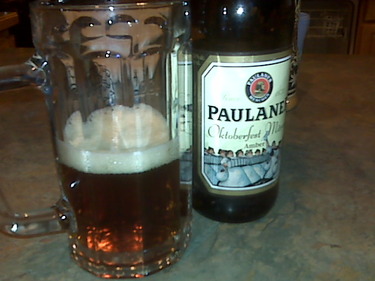 Paulaner Oktoberfest
2. Spaten Optimator
Double Bock 7.2% ABV
An old favorite of mine, I drink this year round. A hefty, but satistying double bock with punch.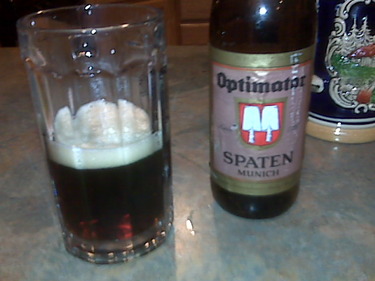 Optimator Spaten
3. Beck's Dark
Dark Lager 4.8% ABV
A maltier version of Beck's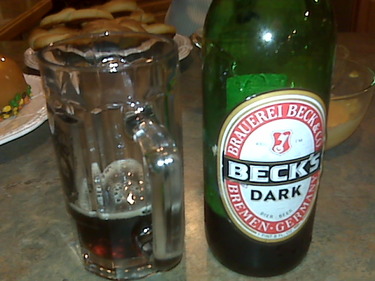 Beck's Dark
4. Weihenstephaner Hefeweissbier Dunkel
Dunkelweizen 5.3% ABV
One of my favorites of the evening. This beer is well-considered generally, and I think it could grow on someone who didn't like Hefeweizen.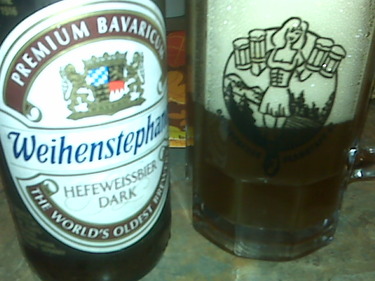 Weihenstephaner Hefeweissbier Dunkel
5. St. Pauli's Girl Dark
Dark Lager 4.8% ABV
Definite similarities to the Beck's Dunkel.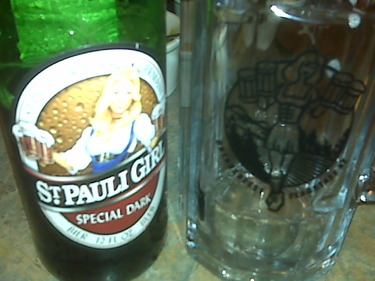 St. Pauli's Girl Dunkel